Millions of people have died because of the Corona pandemic. There is no way to compensate for losing loved ones, but a one-of-a-kind initiative by 16-year-old Amogh Narayan Meena from Dehradun is like a salve for our wounds.
As celebrating World Environment Day and pay tribute to the loss of loved ones, Amogh Narayan Meena has made the world greener.
Amogh, a 16-year-old student from Premnagar, Dehradun, has played a significant role in making people more aware of environmental protection as well as have motivated many towards planting saplings in his city.
In the course of the pandemic, hundreds of people who lost their lives because of corona infection were cremated at the crematorium. In such a situation, Amogh planted saplings on the vacant land around the cremation ground as a tribute to the dead. Here Amogh, along with Sunny Kumar, Ranbir, Sujal and many others, planted different species of plants.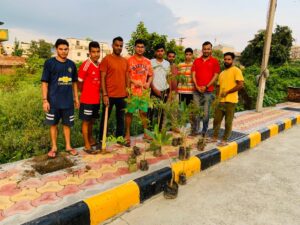 Amogh believes if people plant a sapling in the memory of their loved ones along with environmental protection, there will be a true tribute in the memory of the dead souls. Amogh said that he will take the campaign from Premnagar to other districts, states and the country through various mediums. So that people will plant saplings in their homes, courtyards, campuses, localities, villages and towns.
The journey to environmental protection started from the plants in the courtyard of his house. Then he started planting saplings in the nearby locality of his house. This led to his World Environment Day campaign with his friends. For this, Amogh chose the cremation ground of Premnagar.
The environmental initiative of Amogh Narayan Meena from Dehradun is being highly appreciated by Forest Minister Harak Singh Rawat, who was impressed by Amogh's unfailing work towards environmental and wildlife conservation at such a young age honouring him. Apart from this, various government and private organisations have also honoured Amogh for other works, including cleanliness, public awareness.
He has also adopted many animals in Doon Zoo. Apart from this, he also runs a blog page for environmental protection.
Akansha Jain