While buying a cream or a face wash, it doesn't occur to us how much pollution its production, usage and disposal will lead to.
Per the Euromonitor International study, India is at the 8th rank globally, with $14 billion worth of sales in beauty and personal care. Just by looking at the number, one can imagine the amount of plastic that must have been used for packaging only.
The usage of microbeads and microplastics in beauty and personal care products makes it impossible to extract from water bodies or any other natural resource. Using chemicals for fragrance or any other purposes affects aquatic life in harmful ways and causes air pollution. Not only this, but excessive use of certain plant or animal-based products, leads to deforestation or cruelty towards animals.
The list is long.
Earth Rhythm (ER), a Direct-to-Customer (D2C) personal care and beauty brand, focuses on sustainability and zero-waste as its philosophy, was founded by Harini Sivakumar.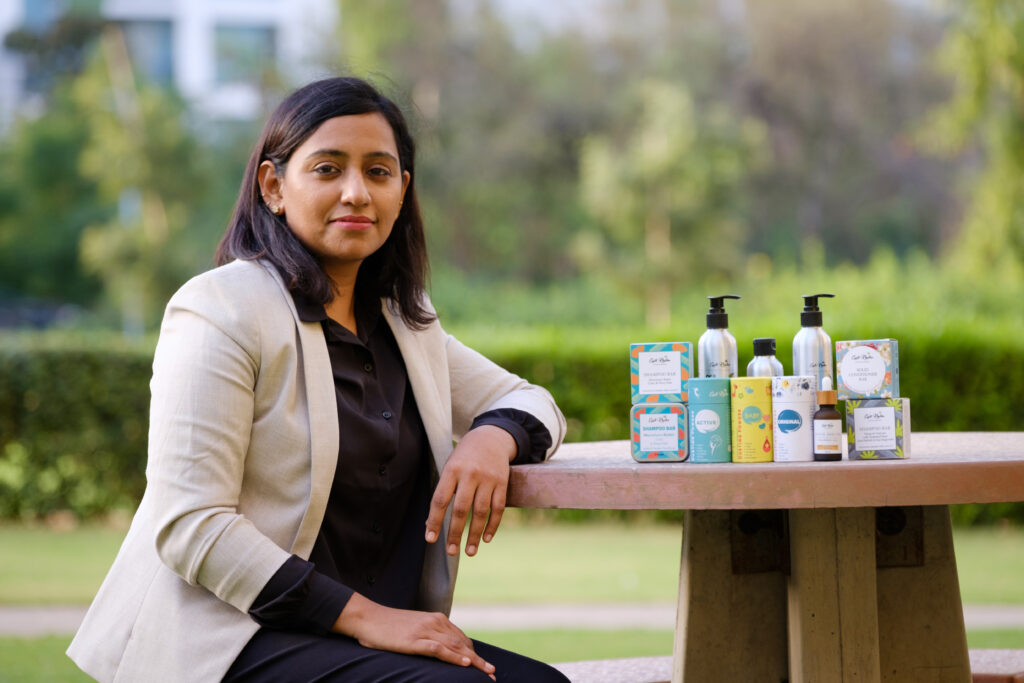 With the brand reaching new levels of success and recognition around the world, Harini spoke with TheEarthView and talked about her journey from starting a small business to the values of the successful company that it has become.
"The journey has been terrific. It started off in the kitchen of my house back in 2015. In 2018, we worked on a bigger scale and worked hard to reach where we are today." At present, Earth Rhythm has a ten thousand square feet factory where around 60-70 workers are employed.
From the beginning of the company, the founder will establish the brand as an eco-conscious one to give their customer a reason to explore their products. "The market is flooded with many brands. From the beginning, we wanted to distinguish Earth Rhythm and figure out the reason a consumer would buy any product from yet another new brand". As a homegrown venture working independently towards creating safe and non-toxic products that are clinically effective, Earth Rhythm does extensive research to plan its own formulas and conduct clinical trials.
"I realized the consumers were buying from us because it was easier for them to customise products according to their needs when buying from a small business. They could tell me the way they wanted the products to be packed, for instance, out plastic wrappings or jar".
Catching on to the needs and demands of the customers, Harini channelised the brand towards being a sustainable brand. This inspiration was aided because Sivakumar herself is very cautious regarding the consumption of plastic and believes that "if we don't make a conscious call about reducing our waste, where will we go in the future?". Looking at the pattern of D2C businesses and their growing popularity, her resolve to be a sustainable brand was affirmed. 
"To begin with, we brought in products like shampoo and conditioner bars, lotion bars and such. None of these products had plastic packaging outside the product itself. The consumers really liked the fact that they could contribute towards reducing plastic waste in the environment as well by making the switch to plastic-free products". 
While speaking about the brand's philosophy, Harini also talked about how important it is for them to be inclusive in this journey. "Coupled with being sustainable, we have another strong ethos in place, inclusivity. So, while building the brand, we have been really conscious about being a completely inclusive one". The company has employed people with special abilities and people from LGBTQ communities, which also connect the consumers on an emotional level. 
Instead of straying from the principal task, Sivakumar knows these aspects need to be accompanied by the product's usefulness for the company to make a difference. "While we strive to be a sustainable and inclusive brand, we still believe that if the product doesn't work for the consumers, they will not be coming back to us". The brand ensures the effectiveness of the product by conducting clinical trials and having their formulas dermatologically approved. 
While talking about the ethos and delivering valuable products to the consumers, Harini spoke about the fact that Earth Rhythm products are ECOCERT certified, which is one of the largest certifying bodies in the world, and how important it was for them. "We made it a point that we have ECOCERT as the global certifying partner for us. Since our products are self-manufactured without third-party manufacturing for us, leads us to be more responsible for bringing products in the market to source, being cruelty-free, performing clinical trials, manufacturing practices and such". 
ECOCERT is one of the most rigorous certifications and there are very few brands in India that are certified. This way, the brand could get a global standard certification as well as establish their products as sustainable, safe and non-toxic. 
The concept of natural brands being completely organic and chemical-free has been prevalent among the public. As the conversation moved towards public choices and preferences, Sivakumar emphasised that both the natural ingredients and chemically planned products are good, with each significant for their purpose. She spoke about how it all depends on the consumer's preference and what works for them. "It becomes very important how well the consumers understand the ingredients. That is why brands like us let the consumers know what the product will deliver".
That consumers are paying more attention to the things they consume and how they will affect the environment plays a big role in nudging brands towards being more sustainable. "The consumers are opening up the market and giving a lot of information to the consumers. But the consumers can decide what they want and what the product will deliver to them".
Managing every aspect of the company, Harini spoke about her involvement in the functioning of the company and what sustainability means to her. "Before sustainability meant moving from plastic to something reusable, like glass or tin. But after so many years of doing research, I have come across so many products which look plastic but are 100 per cent compostable and biodegradable. Sugar cane-based plastic tubes, for instance, are available in the market". Being closely involved in the functioning of the company, especially as the product person, has helped her in bringing the company to the level it has like a green brand. 
Harini talked about the shift that is taking place in the industry as the world is becoming more conscious about sustainability and its carbon footprint. We as a society have advanced in technology, that everything is being purchased online. "If we, as brands, make a shift to being more sustainable, even if it's just a little more money spent on packaging, it will mean a lot more to the environment at the end".
Akansha Jain