"There is a popular understanding of people in our country that Environmental Sciences is a very effortless subject. People seem to underestimate and neglect the importance of in-depth understanding of the subject. As a master's student of environmental science, I have understood that environmental sciences provide the basic framework for the establishment of every other discipline," said Supantha Syam, an environment scholar. For Supantha Syam who is from Kolkata environmental education is a subject that she loves. She has completed her Masters in Environmental Science and her preliminary research in Wildlife sciences.
Environment education is a subject that without saying could be termed as the most underrated subject ever. If you're studying about the environment means you're only studying about the environment, right? Many people fail to understand the importance of this subject because not many are taught that thinking or reading about your environment is something that should be necessary to the core. The responsibility that we have towards our environment, our society and the different species that co-exist must bring us together to learn about the environment altogether. There are certain subjects that you read and certain that you love.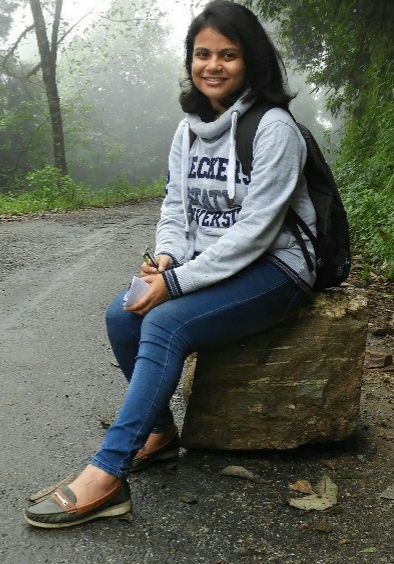 Sharing her experience at Wildlife Institute of India, Supantha said, "During my master's dissertation work in Wildlife Institute of India, I have been closely associated with tiger management and conservation project. Although my research work was based on landscape and vegetation characteristics of the tiger habitat, I have experienced and observed the course of action undertaken for the tiger reintroduction and augmentation of tigers by the concerned team. The success of the tiger augmentation project as evident from the latest tiger census report has greatly aroused my interest in participating directly in the conservation of the national animal of India." She was particularly interested in learning more about tigers and their habitat during her research.
Supantha also spoke about the recent cyclone 'Amphan' that hit West Bengal and uprooted a huge number of trees, she says, "Recently my state, West Bengal, faced the catastrophic destruction of cyclone Amphaan. One of the most devastating effects of this cyclone was widespread uprooting of trees. The city of Kolkata was no exception to this massacre. Due to substandard urban forestry practice and negligence of concerned authorities, almost 15000 trees were uprooted in the city itself in a matter of few hours. This vast devastation and overnight critical decline of green cover of the city recently attracted my attention towards sustainable urban forestry management and practice. Urban trees are the lifeline of city dwellers. Absence of urban trees will inevitably impact the health of the citizens."
Working alongside animals was exciting, fun and also very critical and Supantha shared her experience vividly, "During my dissertation days I worked at Buxa Tiger Reserve in West Bengal for three months. I had to carry out intense fieldwork within the forest for my project. Frequently I encountered herds of elephant or herds of deer while working. Occasionally I would also come across bison, leopards, snakes, different species of birds and much other endemic flora and fauna. The calmness and beauty of nature and wildlife soothed my soul. We are all aware of animal abuse and illegal poaching practices prevailing in all levels of our society, but we repeatedly neglect to pay attention to these inhuman practices, because we humans are not directly affected by it. Observing animals in their natural territory devoid of any anthropogenic threat, from such a close range gave me an overwhelming satisfaction and contentment for my research work. I wish to actively participate and continue my work in this field for the improvement and sustenance of our environment and wildlife."
As mentioned earlier, environmental science or wildlife sciences could be taken up as subjects of higher studies. Supantha shares with the EarthView that how to opt for these two subjects and make the most out of them. She commented that all there are many challenging avenues that one can opt for if one studies these subjects but she finds few of the more promising ones. She said, " Environmental Scientist/Researcher- Investigation, identification, prevention and solving environmental problems for the sustainability of life on earth. The research area is usually dependent on the specialization type of the student e.g. Ecology, landscape, energy and natural resources, biota studies, waste management, toxicology, wildlife, marine sciences, etc. The research projects might be privately funded or government-funded."
Sharing the opportunities for the budding students in the environment, she said,"There is promising career such as Professor/ lecturer where the students can continue their academic education by teaching in various private and government universities. Individuals can also work as an environmental consultant in various private and government industrial projects require a groundwork on the impact of the environment at the project site. Every project requires a preliminary environmental impact assessment clearance by the government. Stringent environmental standards require for specialists in the environmental sector for appropriate project site assessment."
She also highlighted that apart from the above-mentioned options, environmental science students are eligible to pursue a career in any field of discipline which requires an integration of environmental knowledge." According to her, the candidates can attempt the various competitive examinations like UGC-NTA-NET, GATE and SET for higher studies.
"Our country has been facing the wrath of nature for a long time. However, the side effect of which has increased in frequency in recent years. One of the most obvious reasons for such an occurrence is climate change. People have gradually started to believe the fact that climate change is real and it is happening at an alarming rate. Many people argue that climate change is nothing new, the climate has changed several times since the creation of the earth. This is the sole reason why environmental sciences should be considered as a very crucial and mandatory subject in the coming years.", Supantha feels that our environment is a part of us, and the challenge lies in protecting the environment and making it a better place to live in for the generations to come.
Written by: Srijani Roy Chowdhury