A yoga mat made out of water hyacinths plant!! Who would have thought of this?
Six girls belonging to the fishing community living on the fringe of the Deepor Beel have economically changed the use of water hyacinths. Water hyacinths are notorious as invasive plants that boom over water bodies, forming thick layers and depleting oxygen in the water with their decaying process.
Deepor Beel is a permanent freshwater lake in the southwest of Guwahati, in Assam and is recognised as a Ramsar Site and a bird wildlife sanctuary. The lake has been a source of livelihood for nine villages in the fishing community, who have shared this biome for centuries. Over the years, the villages have suffered from excessive growth and accumulation of water hyacinths.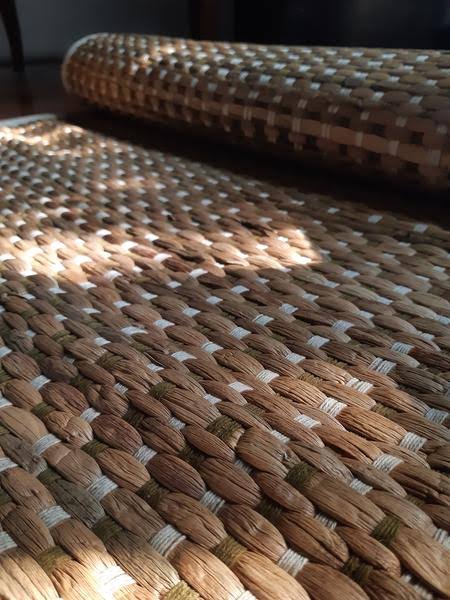 This problem led to ingenious innovation where the girls could contribute significantly towards the environmental conservation and sustainability of Deepor Beel and locals. This clever invention was a biodegradable and compostable yoga mat developed from water hyacinths, which turned this water plant from nuisance to wealth.
NECTAR (North-East Centre triggered the Simang intervention through an initiative for Technology Application and Reach). NECTAR is an autonomous body under the Department of Science and Technology (DST) that the entire women's community associated with the collective is called "Simang- meaning a dream."
'7 weaves' a sister concern of the Simang collectives' team provided expertise on natural dyes from locally available natural materials from the Loharghat forest range, enabling NECTAR to include naturally dyed cotton yarns from onions skins, iron and jaggery. These yarns are then woven into various beautiful patterns for the mat. They changed most of the pieces of equipment required for the looms to adapt to the natural making structure of the mat. These six girls have since then affected their fishing society and the world with their eco-friendly ideologies to conserve the environment.
The mat comes in a cotton canvas cloth bag where no zip or metal closures are used. With an adjustable strap and closures that are effectively designed to be perfectly biodegradable, it has earned the title of a unique product. Considering all aspects of water hyacinths properties and functional requirements to make products like a mat that is 100% biodegradable and 100% compostable, they ideated the yoga mats to provide multiple ecological and social benefits.
The 'moorhen yoga mat' is named after the Kam sorai (purple moorhen, a resident bird from Deepor Beel wildlife sanctuary). They develop the mat through processing and technological interventions that could improve the aquatic ecosystems of wetlands through the removal of the water hyacinths. This will also help in the sustainable production of utility products with community engagement, generating livelihoods for indigenous communities.
Shashi A