Ganesh Utsav is around the corner and we can't wait to decorate our homes with those beautiful Ganesh and Gauri idols to which are believed to bring happiness, wealth, and prosperity with their arrival. But have you ever imagined what goes into making those beautiful idols that decorate our homes on this auspicious occasion and where do they go after being immersed in water bodies?
Plastic-based decorative items, Plaster of Paris, and synthetic colours used to paint the idols are just some of the non-biodegradable materials that go into the manufacturing of these idols. And once immersed into water bodies, they release harmful substances like lead mercury, arsenic, and cadmium which contaminate the water and harm the entire aquatic ecosystem. And when water from chemically polluted water bodies goes into our homes for drinking and other domestic uses, the eventual consequences can be way more damaging than we can imagine. So is there a way out where we don't need to compromise on our festivities and the ecosystem remains unharmed at the same time?
Udupi Deputy Commissioner Kurma Rao M. is asking people to opt for eco-friendly Ganesh and Gauri idols and urged people to take part in large numbers in a campaign of the Karnataka State Pollution Control Board (KSPCB) to promote the use of turmeric-based idols.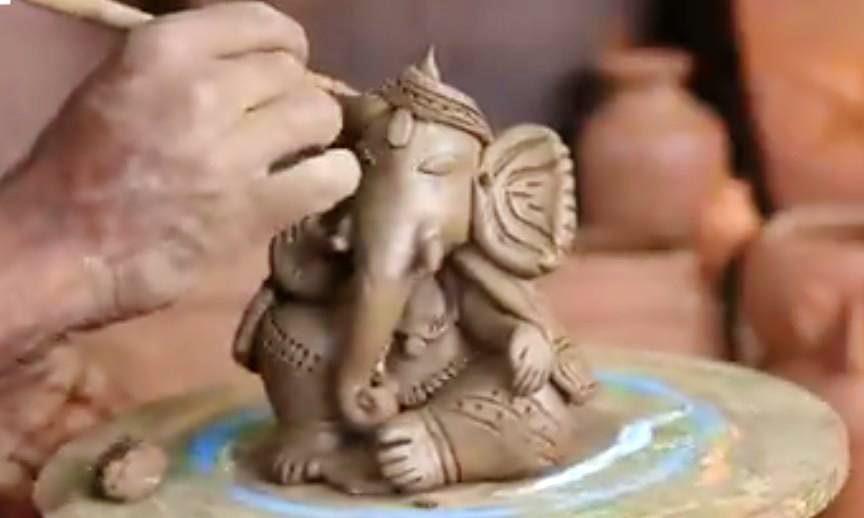 People can purchase, or even make their own idols made from turmeric, milk and ragi flour all mixed. And instead of using plastic-based decorative materials, use flowers and green leaves for decoration. We can use coconut shells as the "peetha" or pedestal to install mini idols, he suggested.
Not just Karnataka, but Maharashtra, which is known for its epitome of Ganesh Chaturthi celebrations, is also incorporating and promoting various innovative and eco-friendly options for buyers coming to get Ganesh idols for their houses. Eco-friendly idol stores in Mumbai are offering Ganesha made from paper, clay, and other biodegradable materials.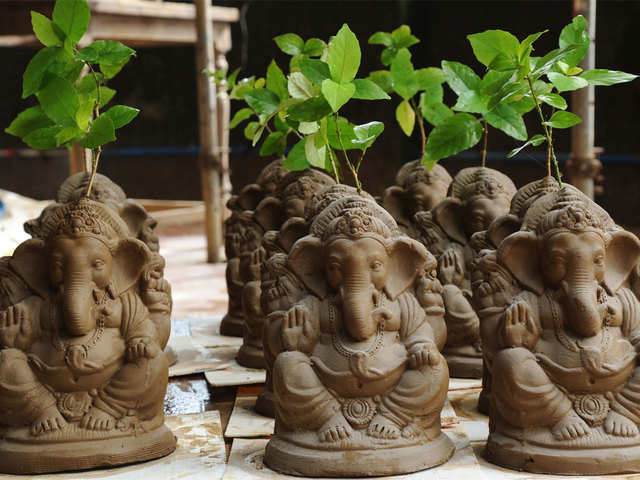 A 49-year-old resident of Kurla and idol maker from Mumbai, Sandeep Baleram Gajakosh, who started making eco-friendly Ganesh idols with paper mache in 2007, has even sent his creations to foreign countries like Canada, Germany, and Australia this year.
Mumbai Mayor, Kishori Pednekar, is also encouraging Mumbaikar to celebrate Ganesh Utsav in an eco-friendly manner by going for Ganesha idols made from shadu maati (clay), red soil, or paper mache.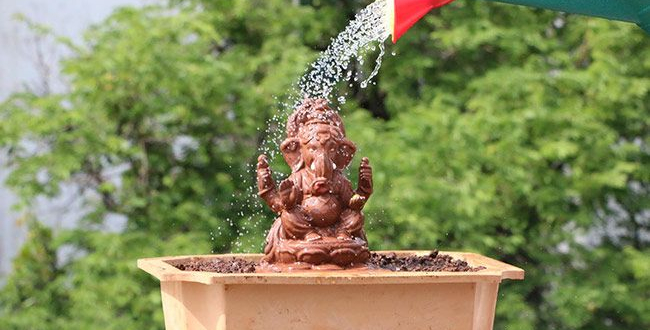 The popularity and demand for Green Ganesh Utsav are already soaring all across the country. Artisans in Moradabad, who came from Rajasthan because of a decline in demand for Ganesha idols, are making small and eco-friendly idols this year. The pandemic has left everyone with a shaken budget. People can't afford those big expensive idols this year. So meeting the needs of the market, these artists are making eco-friendly idols in smaller sizes and painting them with food colours. A really innovative way to tackle two problems at once.
Tazeen Ansari