Vani Murthy, the queen of compost and renowned urban farmer, passionate citizen leader, is one of the most active campaigners for Solid Waste Management in Bengaluru. Being one of the founder members of SOLID WASTE MANAGEMENT ROUND TABLE (SWMRT) Bengaluru, India, She is often called a "composting crusader."
Her journey started in 2008 with the "Wealth out of Waste program". Vani's passion for keeping her city clean led to the "We Care for Malleswaram" campaign.
Her knowledge on recycling kitchen waste into compost, and using it to grow herbs, flowers, fruits and vegetables are held in high esteem. Vani has tested every possible home composting method available. Compost is fun, addictive, and it's one of the great action each one of us can take and mitigate climate change.
Moving further towards the concept of Zero Waste lifestyle, Vani has been actively propagating the green revolution through organic waste management.
In a conversation with The EarthView, Vani shared some of the DIY compost ideas that anyone can practice. Grow your organic food at home and manage waste beautifully.
Worm Compost DIY:
What we require for worm compost.
• We need red earthworms. They are readily available in the university, any agricultural college.
• We need a bin, bedding is essential, vegetable peels, fruits peel, and any kitchen waste.
• Dry leaves, cardboard, newspaper, mature cow-dung.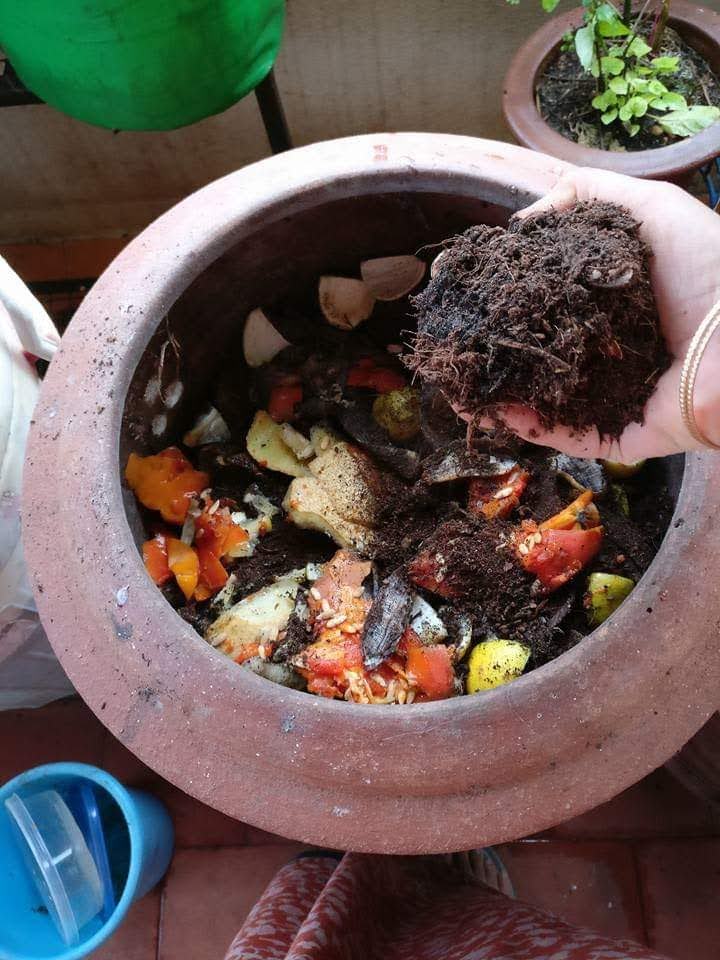 Process
We need a bin, and bedding is essential for composting. For bedding, you require cardboard, any shredded papers, dry leaves and some mature cow-dung because red earthworms love to eat cow dung and it should be moist always. Build this pile-up. And in coming 40 days, your compost is ready.
Vani Murthy shares, "Earthworms are the best friend of farmers, because the farmers land is rich because of earthworms, and it provides nutrition for the plants. And you get the black gold finally now you can harvest, grow your vegetables. Its Black Gold from waste."
Aerobic Compost DIY
What we require for Aerobic Compost.
• Container
• Old newspaper
• Dry leaves
• Kitchen waste
• Accelerator, i.e. buttermilk, coding, panchagavya.
Process
We need to keep 5 things in mind the first is dry browns, wet greens and moisture. Moisture will come from the breakdown of the kitchen waste and the aeration, which is oxygen. Add the accelerator buttermilk, sprinkle on it and mix it up. This is an aerobic process and you need oxygen. So you need to turn the pile once in a few days. Micro-organisms play a vital role in the process of Aerobic compost. Micro-organisms that could be anything from a kitchen or store. You can continue the same process the next day as well.
After 40 days, the compost is ready.
She further shares that using kitchen waste is not at all bad or smell. It's our food that we ate—so no need to feel bad while touching them until you have dumped it somewhere.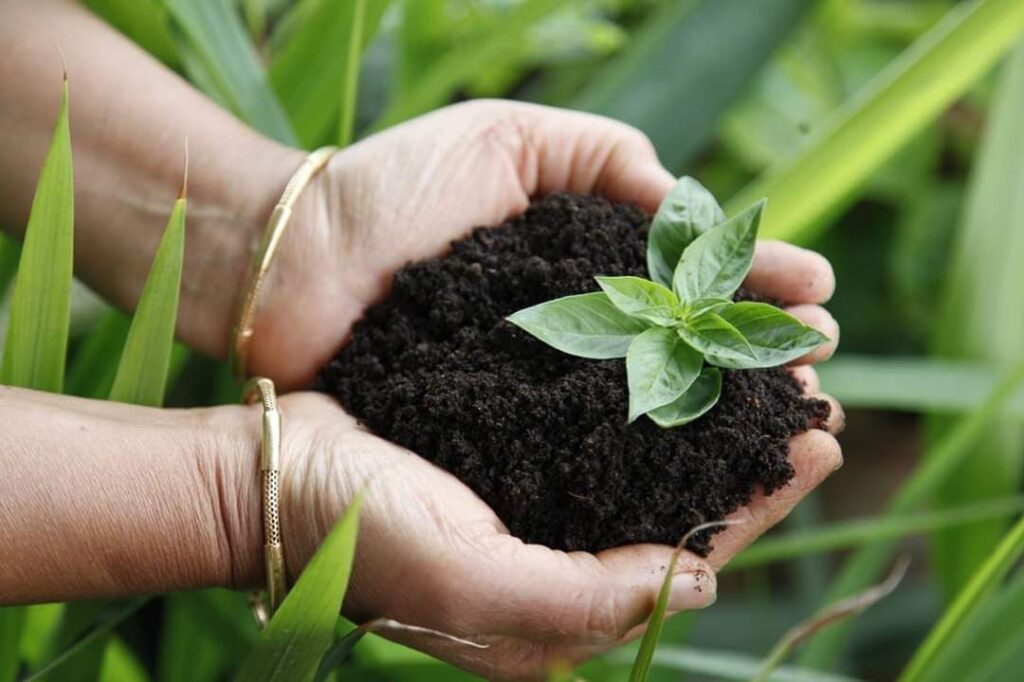 BIO ENZYMES
Vani stopped using chemicals almost 2 years ago. She explains the importance of natural cleaners, which lead to no harm to the environment. She uses the natural cleaners to mop the floor, cleans her bathroom.
Here how you can DIY NATURAL CLEANERS.
The recipe is straightforward you need 1 litre of water, 100 grams of jaggery, 300 grams of citrus peels, add a pinch of yeast, put them into container mix well. Remember to open the cap every morning to remove the gas it generates. Keep it in a cool place.
After 1 month, it will ready to use with zero chemical.
Natural liquid detergents.
Soak soap nut in hot water for a few hours, and grind it and filter it. Store it – a natural detergent without chemical is ready. It's an excellent way to wash vessels. Clean your kitchen tiles, gas stove with the soap nut. Mix bio enzymes and soap nut liquid for laundry and to wash your hairs as well.
Shikakai and ash
Shikakai and ash used to clean the tough vessels when required. And it keeps away the chemical.
Homemade fertilisers DIY
You need buttermilk to make it dilute and spray on chilly plants, and curry leaves plants to avoid whiteflies.
Hing – Asafoetida
You can use Hing and dilute it in water and spray on plants. It's a natural way to provide fertilizer to your garden.
Banana and Jaggery
You can use ripe banana and add jaggery mix well in a container keep it in a cool place to fermentation, and you can use after 21 days.
Banana peels
Banana peels and add some water into a container and leave it for a few days for process and your homemade fertilizer is ready.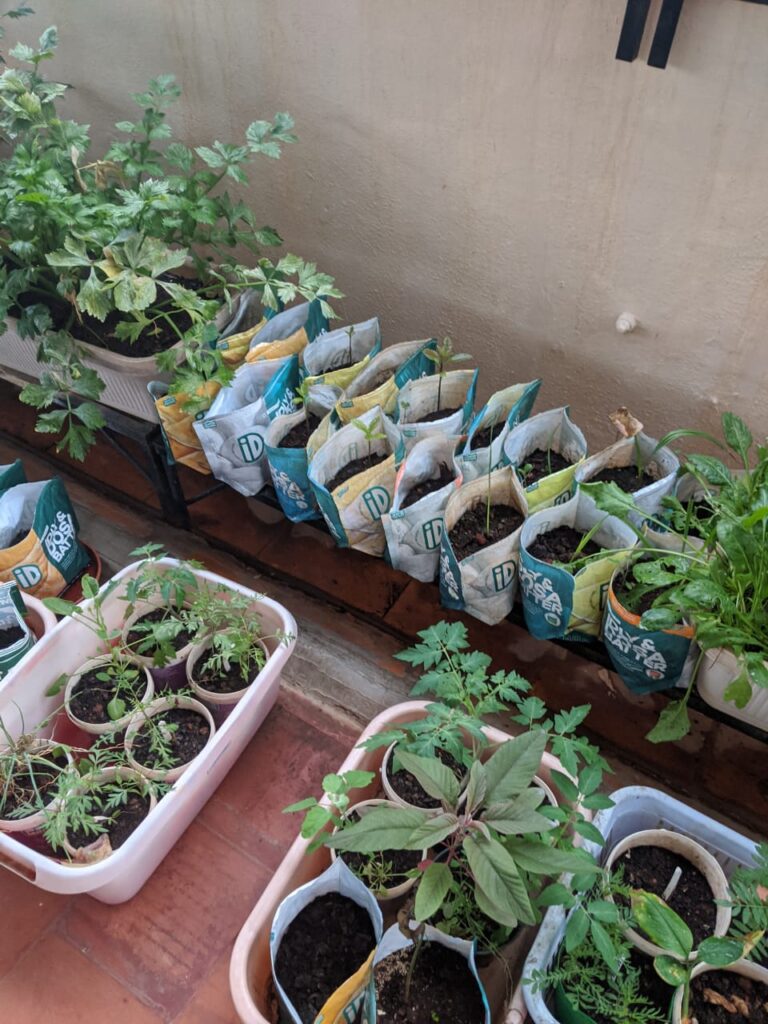 ZERO WASTE
She encourages all to recycle the milk, idli batter, curd bags to sow seeds. Once the plants are grown, and it's ready to shift into a bigger planter. Use the plastic bottles as to keep the liquid detergents, soap nut liquids and liquid fertiliser.
WRITTEN BY: Hemangini Tiwari