Neelabja Saha (22) is a young entrepreneur from Kolkata who has started up a company, namely "Shride." He is pursuing engineering from Ajeenkya DY Patil University, Pune. Neelabja, the founder of Shride India Private limited, is working with a group of members.
"Shride is an abbreviation given to the concept, which means 'Share and Ride'. It is the leading rental company for electric vehicles. We started it to provide people with the most economical way of travel without harming the environment. Shride puts forward a 'GO GREEN' concept to make the environment pollution free and more sustainable towards the future. For this reason, Shride only provides rental electric vehicles," said Saha while speaking to The EarthView
He says, "When I came to Pune, transportation was troublesome. Ola and Uber were the only options to travel freely but economically costly. Therefore, I came up with something different. With the coming revolution of e-vehicles and my firm belief in switching vehicles running on petrol to environment-friendly practices, I launched 'Shride'."
It was launched on February 7, 2020. Also referring to the environmental issues faced by the people of Delhi, Saha does not want Puneites to face similar conditions
Shride is peculiar in markets because of its unique advantages, as mentioned below.
1. Economically Affordable–Shride charges Rs 44 per hour and Rs 600 a day. As these vehicles run on battery, they are affordable to all and are environmental friendly.
2. License free travelling–Shride provides various options of e-bikes to choose from. These bikes do not require any license to travel. This facility only applies to the people above 18 years but mostly focuses on the youngsters. Shride provides bikes, which do not need a key to start, but have a remote. Thus the Shride service providers hand these remotes to you.
3. Trouble-free travel–Shride provides support guarantee and has 30 centres across Pune city. In a troublesome situation, just a call to Shride centres can help you at any place.
In the current situation of COVID-19, Shride provides its customers with sanitizers, masks, gloves, and first-aid kit. Also, before using the vehicle, it is sanitized and handed over to you. It provides the vehicle with a charged battery, which runs up to 80- 100 kilometres.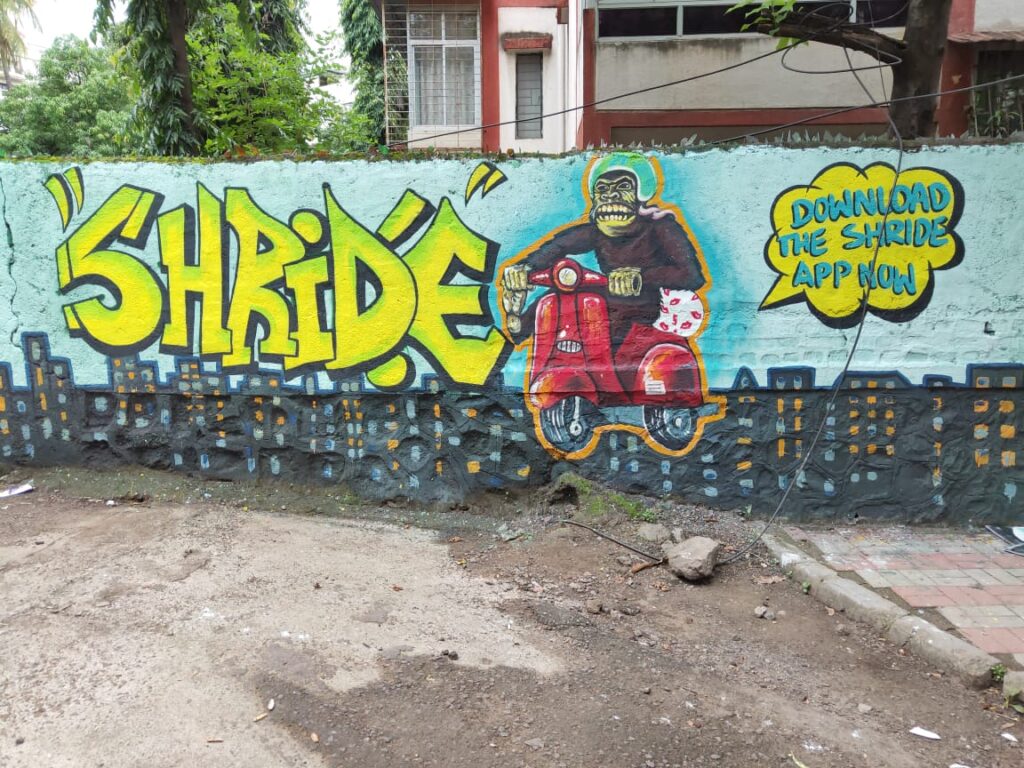 Neelabja in a conversation with The EarthView also stated that Shride had sponsored few artists working for Pune Municipal Corporation, to draw graffiti on the walls of Pune city. They have painted 30 walls till now. The motive behind drawing graffiti is productive. Shride is giving the city a fresh look and a new youth face.
Because of COVID-19 pandemic, Shride has limited its service from 7 a.m. to 11 p.m. With the reducing restrictions in the city and mostly the containment zones, Shride will give 24 hours service. Shride not only looks forward in easing the travelling for the youngsters, but also looks forward in helping the public in the time of need. Recently, Shride has donated 5000 masks to the public of Pune who can't afford such things other than their daily needs.
Shride is easy to book from the Shride app available on Google play store and Apple App store and it can directly be booked from its website shride.in.
Written by: Vaishnavi Jawalkar