On September 7, 2021, Agri-Business Promotion Facility (ABPF) organised a technology workshop, Himachal Pradesh Horticulture Development Project (HPHDP) at Hotel Trance, Dharamshala. The theme of the event was "Innovative horticulture technologies to improve productivity & quality of horticultural produce, and promote entrepreneurship in Himachal Pradesh".
Dr Arun Chandan, Regional Director of Northern region of National Medicinal Plants Board Ministry AYUSH, was the chief guest on the occasion. Deputy Director of Horticulture Kangra, Dr Kamal Sheel Negi, SMS Dr Sanjay Gupta, SMS Apiculture Dr Ajay Sangrai, other officials from the Department of Horticulture, orchardists and potential entrepreneurs from different districts of Himachal Pradesh and representatives from ABPF were present in the workshop.
The Himachal Pradesh Government (GoHP) is implementing the World Bank-supported project, HPHDP, with the aim "to support small farmers and Agro-entrepreneurs in Himachal Pradesh to increase the productivity, quality and market access of selected Horticulture commodities". ABPF has been promoting private investment in HP's Horticulture sector, fostering backwards and forward linkages in horticulture value chains, and promoting positive policy change. To sensitise orchardists and potential entrepreneurs and develop an awareness of shelf technologies, they organised this technology workshop.
At the outset, Dr Arun Chandan, in his opening remarks, appreciated the efforts led by the Department of Horticulture and HPHDP for assisting farmers in getting quality services, excellent quality planting material and efficiently attending to farmers' concerns. Horticulture Development Project provides an enabling platform for farmers and orchardists to fill the gaps in the supply chain and helps in initiating value addition and setting up enterprises.
Dr Chandan highlighted the role of the National Medicinal Plant Board in defining the scope for convergence and dovetailing of the schemes for ensuring the sustainable livelihood of the farmers in Himachal through the collection and cultivation of medicinal plants. He explained that there is a tremendous demand in the medicinal plant sector post COVID globally and HPHDP can come forward to support farmers in managing the supply chain of medicinal herbs integrating with horticulture produce. Medicinal Plants and Horticulture may go side by side and various scopes exist in inter-cropping them together. The farmers can get help in raising some of the uncommon varieties of herbs and medicinal plants through their various schemes and finally get these herbs processing units under HPHDP. He said that in our region of Kangra and nearby districts, there are many such varieties of herbs and medicinal plants which are uncommon and are of high medicinal value. Many of the processors have processed these plants and their parts for pharma and nutraceutical purposes.
Dr K.S Negi, Deputy Director Horticulture-Kangra, shared the current scenario of horticulture in Kangra district and associated challenges and opportunities in the horticulture sector of the region. He detailed the ongoing activities under the HPHDP program and sensitised participants on various schemes under the umbrella of the Horticulture Department, which would benefit farmers. He was also briefed on the Matching Grant Scheme under HPHDP and other business opportunities under the SME sector.
ABPF team members explained the major activities of ABPF, i.e mentoring support, access to finance, market linkage, technology scouting and matching grant scheme. The team also requested investors interested in investing in the HP horticulture value chain to apply for a matching grant scheme-III by 25th September 2021.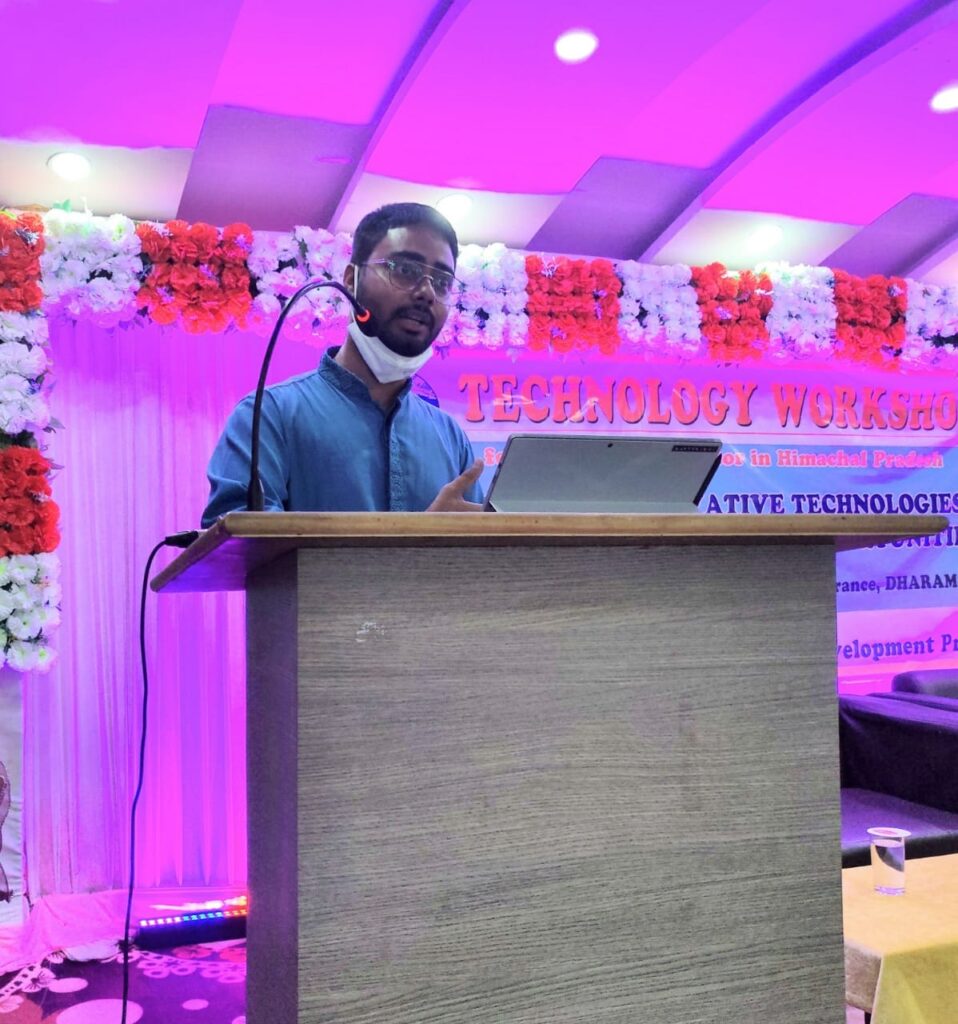 The various technology providers presented the innovative technologies: low-cost cold storage by Sapt Krishi-Sabji Kothi, cold storage and CA store by Carrier – Snowolt, horticulture tools and pieces of machinery by HECTARE (Sickle Innovations), technology on the extraction of essential oils and nutraceuticals from fruits by ARK Chem Pvt. Ltd, optical grading & sorting machines by High tech Engineers, artificial intelligence-powered Internet of Things (IoT) platform disc technologies by Wolkus Technologies, technology on honey processing by Department of Beekeeping and display of off-the-shelf technologies from CSIR-IHBT and Saanvi Traders (fruit processing equipment).
During the workshop, it organised an exhibition of technologies relevant to the horticulture value chain for all the participants. Around 200 participants were present in the workshop.