Cruise ship are like a floating city, and like in a normal city, residents here also produce a lot of trash. But here we don't get the services of garbage trucks as we get in the cities to scoop the waste up and take it away. And this is a problem the shipping industry has been dealing with for years. Princess Cruises was fined $40 million in 2016 for illegal dumping. The same took place with Carnival Cruise Lines with a hit of $20 million fine in 2019 for disposing of plastic waste in the ocean.
Waste streams like grey water, sewage, ballast water, oily bilge water, solid and hazardous waste from cruise ships result in discharges into the water bodies, and if not treated and disposed of properly, these wastes can be a source of pathogens, nutrients, and toxic substances that hold the potential to damage both aquatic and human health.
Cruise ships have been trying to figure out ways to deal with waste and purify the water inside the ships themselves. In the same regard, Symphony of the Seas, the newest and largest ship of Royal Caribbean, has changed its entire tech system. According to the company, it's a zero-landfill ship, it uses everything from water filtration, to recycling, to deal with its waste.
Deck two, a secret and crew-only area, is the main waste and recycling centre of the ship. Here, crew members check all the trash cans for if they're recyclable and bring them down for the team to handle.
According to Alex, the environmental officer on the cruise ship says the busiest times are in the mornings when things get unpacked for the day. Every waste stream has its way of getting handled.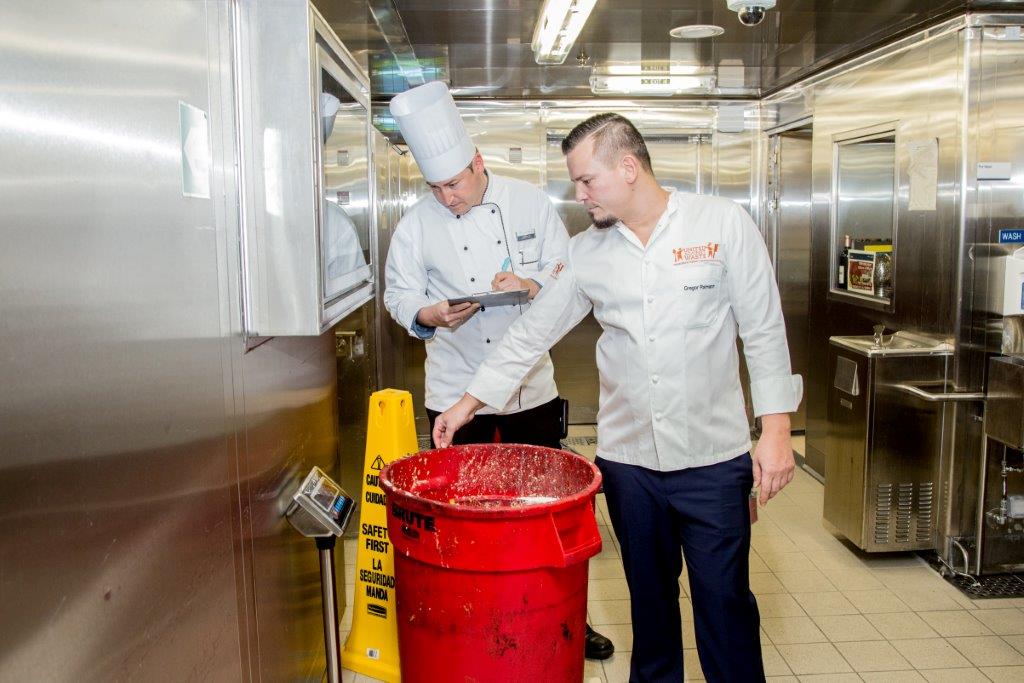 There are separate teams for glass, plastics, cardboard, metals, and all different recyclables. Glasses are separated based on their colours, green, white, and brown. The team processes up to 13,000 pounds of glass for a one-week cruise. And the glass pieces are stored in the bins until the ship docks.
Plastics, on the other hand, go through compactors, crushing about 528 gallons of water bottles.
Cardboards are stacked up in machines called a baler, and get compressed into bundles once the baler is full.
For used aluminium cans, another baler squeezes them down into cubes and they get stored in the fridge just off the waste room. got
In 2018, Royal Caribbean recycled 43.7 million pounds of waste. Rebates earned from these recycling programs go straight to the employee retirement fund.
The cruise ship hopes that it's a nice incentive for employees to bring recycling down from their crew cabins.
And for things that cannot get recycled, like food, each one of the ship's 36 kitchens and restaurants has its suction drains. Servers and chefs put food waste in separate buckets, and once filled up, they're placed in a special drain. All the food waste ends up in one big pipe which runs through the entire ship, and the pipe leads the waste to what's known as a hydro-processor.
And toilet waste, it's all the job of the water treatment system onboard, controlled from the engineering room. Water, divided into two sections, that grey water from laundries, sinks, and drains, and black water, which includes everything from toilets and galleys. The purification system purifies the water above to the point mentioned by US federal standards, that's almost safe to drink.
Well, Symphony of the Seas has a lot to inspire in the areas of waste treatment and sustainability and looking at its efficient processes and operations, one can tell they've given a good thought to the impact they are making on mother earth, something that should be learned as well as applied in all the waste generation areas today.
Tazeen Ansari
A writer, an art enthusiast, and someone who can articulate her thoughts better while writing than speaking, is pretty much enough to describe Tazeen as a person.