theearthview.in took the amazing opportunity to chat with Mr. Naveen Mallesh "A runner at heart, an entrepreneur by mind, and a trekker by choice" He's one of the most inspiring and charming people you will ever meet. Having grown up in Bengaluru, Naveen was just about five years old when he first climbed a small hilltop behind his house. By the time he was sixteen, he had started taking his friends along for treks and thus introducing them to the concept of trekking.
Do keep the mountains clean- always remember that while you're trekking, you're in someone else's territory, respect that- Naveen Mallesh
1. What made you realise that your passion lies in trekking?
As long as I remember, I've been crazily passionate for the mountains and my first hike was at the age of 10. Since then I've been on hundreds of treks and hikes to the hills from Bangalore to the Himalayas. However, the moment when I decided to choose trekking as a career was during my trek to Mount Everest Base Camp. It was a life-changing moment for me when I watched the sunrise from Mount Everest after summiting Kala Patthar at an altitude of 18,200 ft.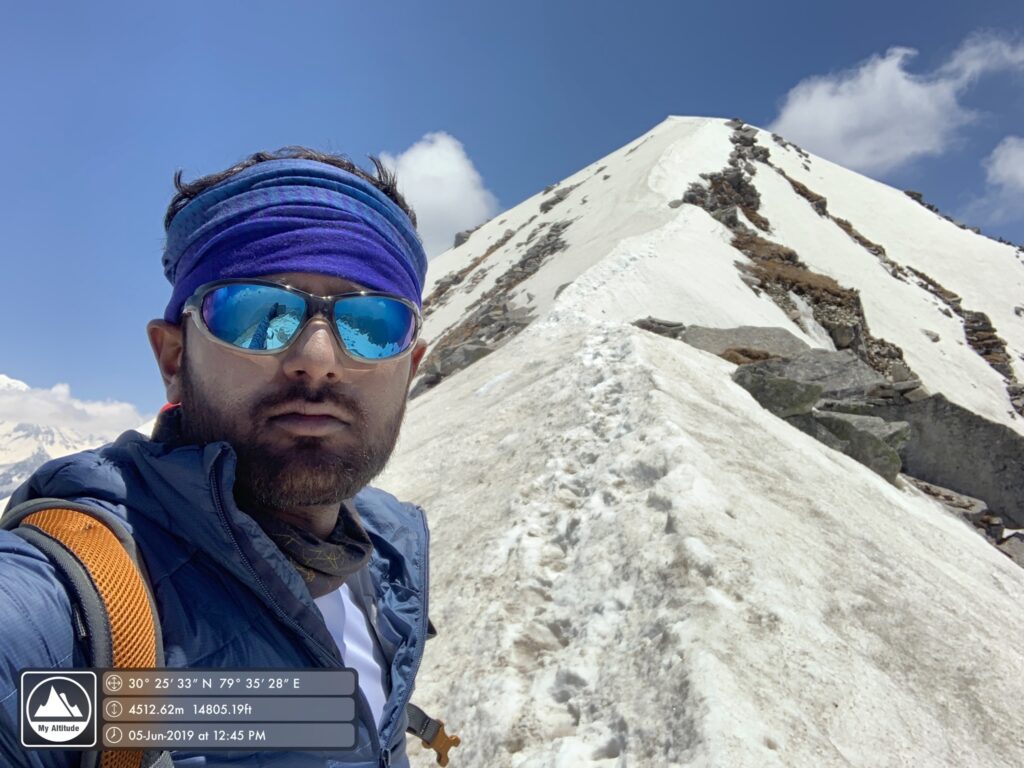 2. Who has been your inspiration, if you had any?
My biggest inspiration has always been the mountains as they have been the source of incredible knowledge that has taught me the way of living. It helped me in gaining a point of view to understand how life can be simple and this helps me in approaching my challenges in a better way.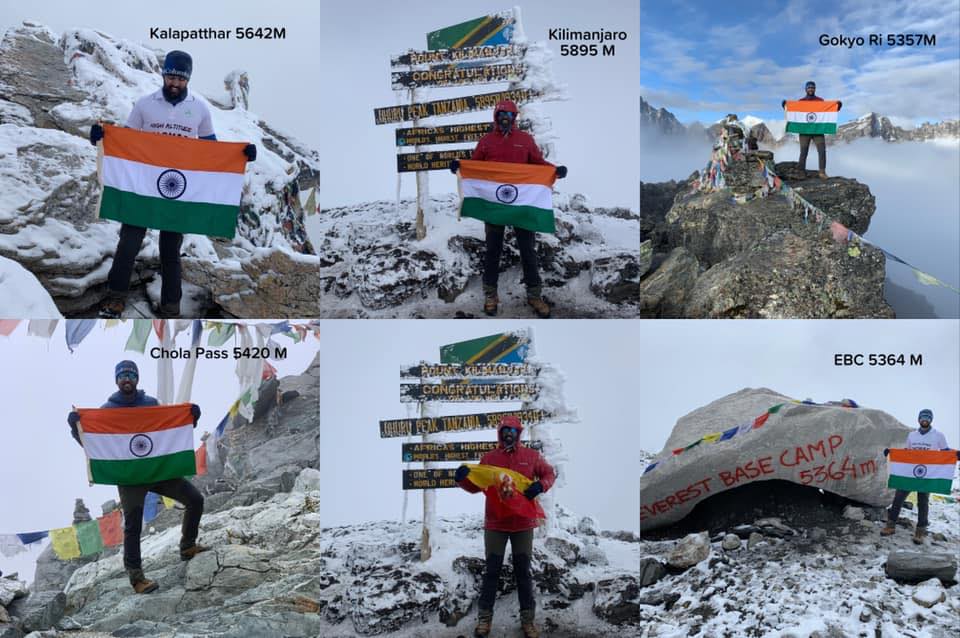 3. Which location you prefer in India the most and why? How was your overall experience?
While I've been trekking across different terrains and trails, it's the Himalayas that inspire me the most. One of the most incredibly memorable places that I have always been attracted to is Everest Base Camp. I guess because it always shows me my ulterior goal. Standing face to face with the magnificent Mount Everest has always been overwhelming. The entire journey in the Everest region makes me feel so powerful yet shows me how minuscule I am in this universe. It's incredible how a mountain can move you like that.
4. How you plan a trip into the mountains? What is your thought process and what difficulties you face?
There is no thought process, to be honest. I've always been up for exploring the unknown, discovering new trails with or without equipment. When you're in nature you have to face challenges, it could be coming face to face with a wild animal or withstanding extreme weather conditions or even turning back from a trail when the weather is not in your favour. You just need to respect nature. As I always say "Mountain/Nature decides when you can climb or summit her" if she decides not to allow you then no matter what strength, energy and guts you have, it never succeeds. I take all these as my learning experience and see how I can turn it into a comfortable experience for my Nomads.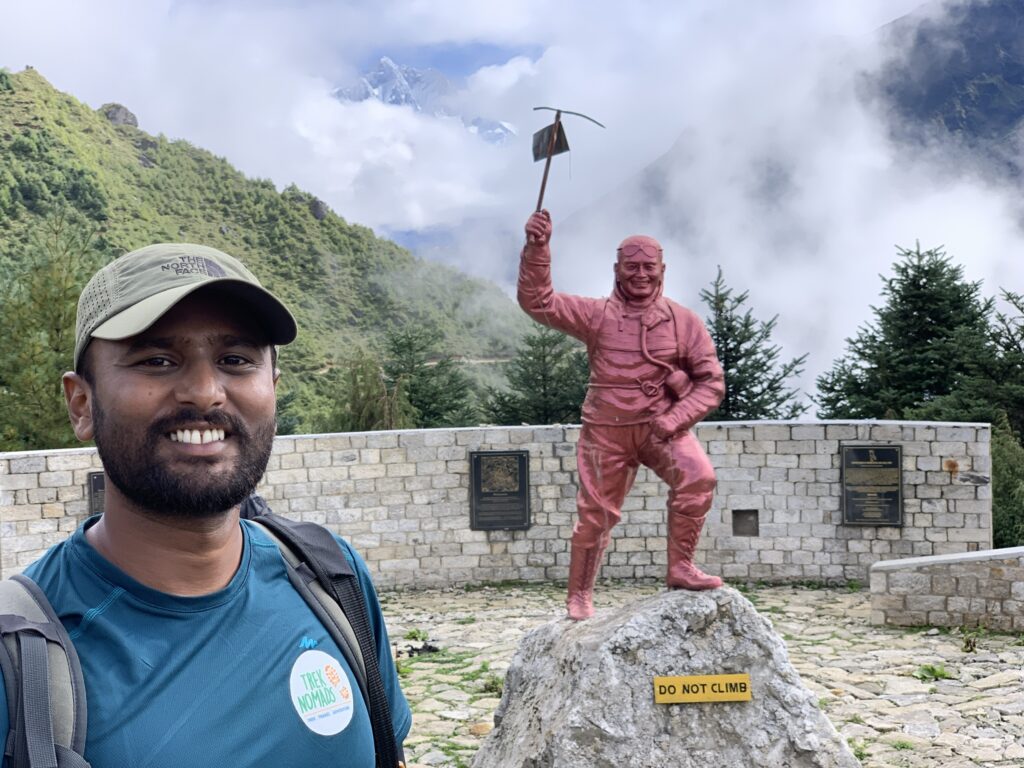 5. Did all your friends and family support you in this?
Yes, they do. When it comes to following your passion, I think support and well wishes from family and friends become your biggest strengths. I'm grateful that I have been blessed with an extremely supportive circle who has always been there as my pillar of strength.
6. Give us a sneak peek into your morning when you are on a trek?
While I am on a trek, my typical day starts with waking up early at around 5 AM or 6 AM. I try and squeeze in a quick workout post waking up as it's essential that to stay fit and healthy. Post my workout, if we're in a place where there's the network, I take a quick 10-15 minutes to catch up on the news and emails as an entrepreneur, it's essential to stay updated. This is followed by checking on day's weather forecast, aligning my ground team on day's plan and waking up our Nomads (Clients). I use to have a hearty breakfast with my Nomadas, post that I brief them on the route, weather and day's plan and what they can expect. After this, we disperse on our trek.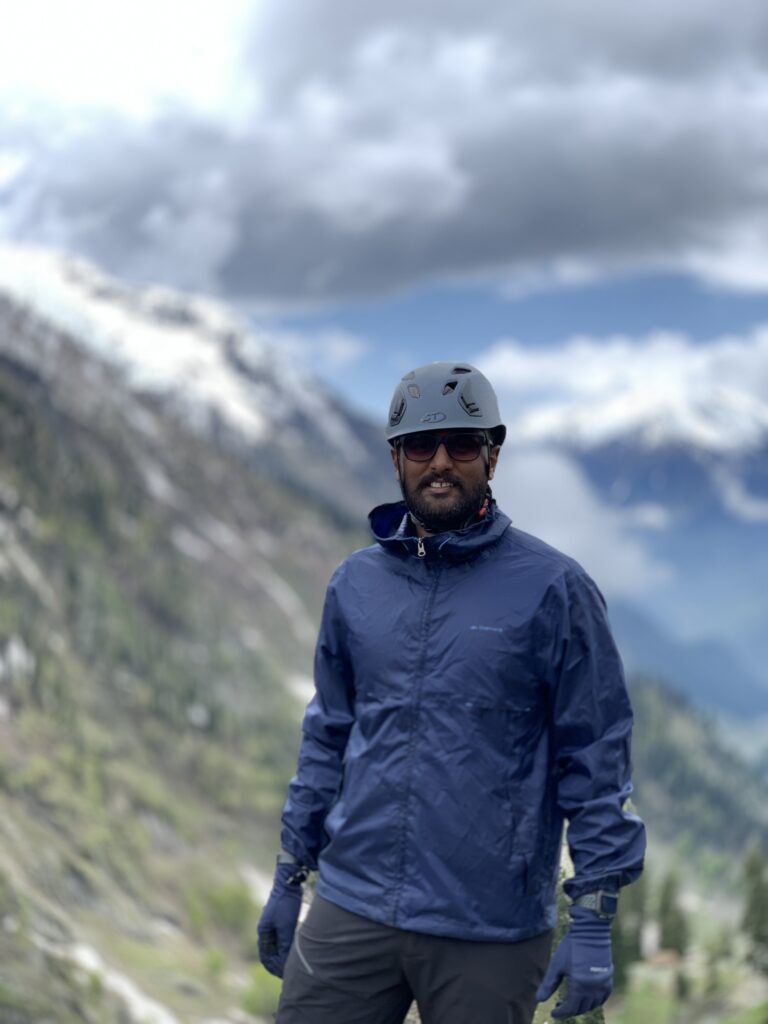 7. What is your exercise and diet plan?
My fitness regime is quite easy to follow. I don't believe in spending money in the gym neither do I believe in spending on expensive or fancy diets. I have mapped out a mix of cardio and HIIT workout that I follow on weekdays with a combination of long runs on weekends. As for diet, I keep it simple with a low-fat, low- carb, no-sugar diet that is easy to make and follow. I have one cheat day every week to mindfully binge. In case I do break my diet plan, I make sure I workout to make up for it. So, it's always a balance of good workout, a healthy diet and a good amount of sleep.
8. What essential items you carry in your bag during trekking
Walkie Talkie, Medical Kit, Swiss Knife, Rope, Head Torch, Water, power bank and biodegradable garbage bags – These are the constants in my bag, without which I can't go on a trek and last but not the least my trekking gear.
9. How has trekking helped you with life? And day-to-day activities
Trekking has thought me a lot of things – right from patience to how to approach challenges and problems. It has also taught me humbleness and developed a positive mind-set. All of these things help me every single day of life and helps me in everything I do.
10. Can you suggest a do and not-to-do list for aspiring Mountain trekkers
There are a lot of things one should and shouldn't do in the mountains. However, in simple words I would say- Do keep the mountains clean and respect the locals. Do not litter and not to be irresponsible while trekking. Always remember that when you're trekking, you're in someone else's territory, respect that.
About Mr Naveen Mallesh:
Born and brought up in Bengaluru, Naveen was just about five years old when he first climbed a small hilltop behind his house. By the time he was sixteen, he had started taking his friends along for treks and thus introducing them to the concept of trekking. By the time he was 22, he had climbed most of the peaks around Bangalore and explored some remote trails in the Western Ghats without a guide. At the age of 25, he led a group of 8 people to Everest Base Camp, and this was where he first fell in love with high-altitude mountains. A marathoner and a seasoned runner, Naveen has completed over 10 Full marathons, over 50 half marathons, and more than a hundred 10K runs in just eight years. He has also been motivating people to adopt running as a regular fitness regime and has introduced & coached more than two hundred people to run.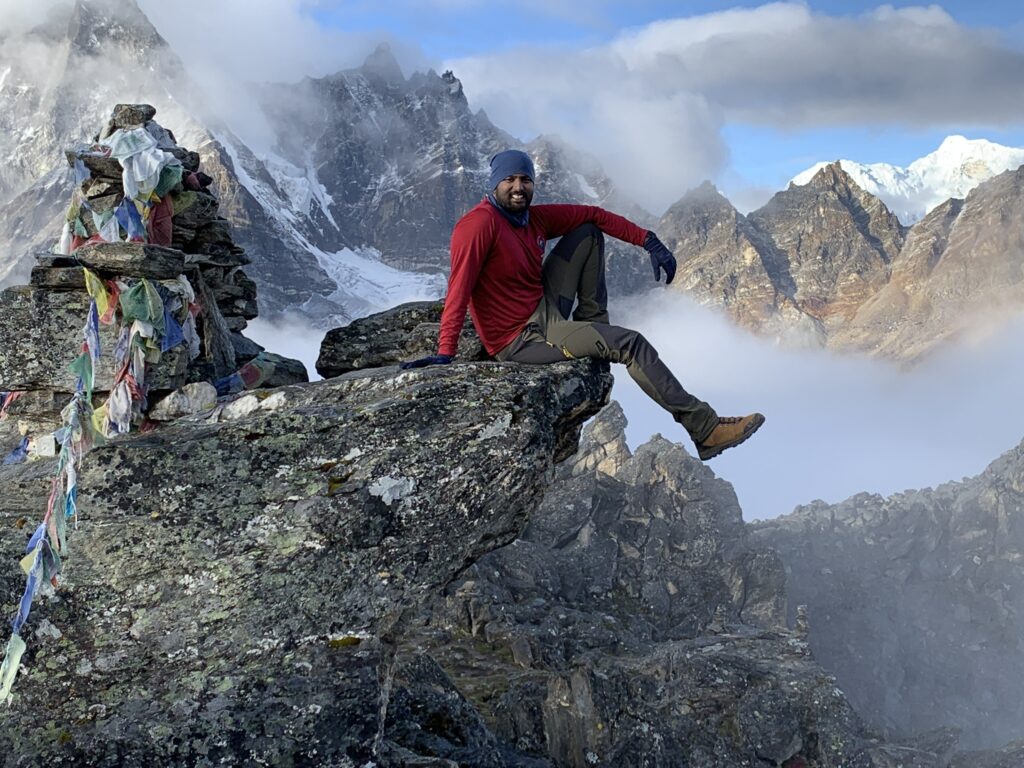 Through the years, Naveen worked with major organizations such as Siemens, HCL before starting a Hyperlocal marketplace called "BookMyInterest" to explore and book a hobby or an interest. The start-up later got acquired by Xoxoday, and Naveen went on to head Channel Sales for the company. After working in the corporate world for over eight years, he went on to live his dream of being amidst the mountains and started a trekking community called TrekNomads in 2016. Since its inception, Naveen has organized and led treks for over 2000 "Nomads," also called Alemaari (Nomad in Kannada), and has garnered over 200 5-star reviews from the Nomads who've trekked with him. In April 2019, Naveen quit his full-time job as a Business Head and went on to complete his Basic Mountaineering Course. In June 2019, he went on to become the founder of TrekNomads.
Since then, Naveen has scaled various peaks in India and across the world. From Pangarchulla, Gorson Top,
Gokyo Ri, Chola Pass, Kalapatthar, and the recent addition to the list was his Kilimanjaro Summit on 13 October 2019. A firm believer in sharing experiences, Naveen's mission with TrekNomads is to introduce people to comfortable and personalized trekking and help them explore the mountains.
Always looking at newer ways to connect with people, Naveen draws inspiration from the people around him as he does from the mountains.
He is now on a mission to protect, promote, and conserve the Western Ghats through his Seven Summits Project. A project close to his heart, Naveen will now attempt to scale the seven summits across the seven continents. Through this, he aims at expanding the scope of tourism and thus improving the local communities sustain and thrive.
He is now actively looking for sponsors who can help him in this mission and bring the Western Ghats to the forefront of the Indian tourism sector.
Contact Details:
Naveen M
Founder & Trek Captain – TrekNomads
+91-9741511882 [email protected] [email protected]
LinkedIn: https://www.linkedin.com/in/naveenmallesh/
Twitter: https://twitter.com/naveenmallesh
Instagram: https://www.instagram.com/naveenmallesh
Facebook: https://www.facebook.com/naveenmallesh