The scenic Dal Lake of Kashmir is now a synonym for sewage. KCCI has promised to take certain steps to save Dal Lake and the environment.
Lokut Dal and Bod Dal receive about 97,000 kg of sewerage every day. The 1,200 houseboats produce 9,000 metric tonnes of waste in the lake.80,000 tonnes of slit get dumped into the lake by nitrates and phosphates each year. The colour of the lake has changed from bluish to hazel because of turbidity, and this lake is not safe for drinking purposes and aquatic life.
The source of water in Dal Lake is a flood that brings silt and solid waste and makes the Lake shallow and affects its hydrology. The Dal Lake has 75 km of catchment area without tree cover.
The stakeholders are tensed by the de-weeding of Dal Lake and the continuous vandalism and littering of trekking areas to quote, The Kashmir Chamber of Commerce and Industries (KCCI).
The de-weeding machines of Lakes and Water Development Authorities (LAWDA) are unused in Dal Lake and the machinists are asking for money to operate machines. Pollution of this lake, destruction of ecology and beauty of health resources like Pahalgam, Lidder Watt, Tarsar Marsar etc. has increased because of human interferences, said KCCI spokesperson in a statement.
Pollutants like sewage and sullage, agricultural runoff, detergents and soaps, soil erosion from catchment areas, animal waste, solid wastes and wastes from houseboats, hotels and business establishments are the source that enters Dal lake and pollutes it.
The western side is the most polluted place as it receives untreated sewage and has resulted in the extensive growth of weed which is removed at a huge cost every year, said Shakeel Romshoo, the head of the Earth Sciences Department at the University of Kashmir and an expert on Dal Lake.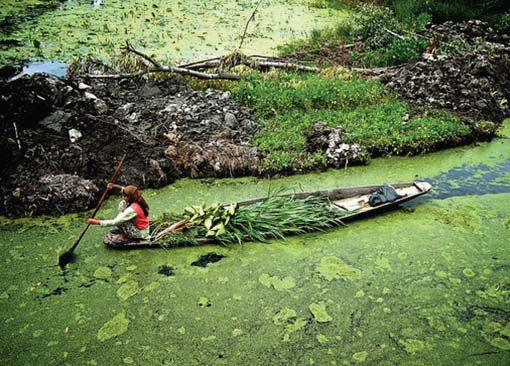 The wrong message was conveyed to tourists by Dal Lake, and it has become a floating garden. We should take action on unregistered and unauthorised trekking companies who are running their business illegally and destroying the ecosystem.
We can conserve the lake through afforestation, soil conservation in catchment areas, trapping of debris and sediments from the catchment areas by constructing a basin, marginal dredging of all marshy areas, and prevention of pollution by diverting sewage and drainage from settlements.
KCCI has requested the government to issue dustbin facilities to reduce littering and limit the pollution near the lake. Only time will tell how much of this effort is really making a difference.
Singhal Bhoomi Pawan