Sustainability can also bring monetary fortunes and it was proved by the efforts of the Aahar team that have steered a successful increase in the monthly profit of 30 small-scale farmers by 25 per cent adopting the hydroponics method of farming in Delhi. In June 2018, 18 students from Netaji Subhash University of Technology (NSUT) in Dwarka initiated Project Aahar. This initiative was started to help the struggling small-scale farmers in Goyla Dairy and East Delhi Yamuna-Khadar regions by directing their interest in sustainable and soil-less farming techniques.
Project Aahar is a non-profit enterprise whose aim is to uplift the socio-economic conditions of small-scale farmers. "Ramlal and Raju Kumar, the two farmers related to project Aahar are farming in Goyla Dairy, the periphery of latest Delhi, from the decades. However, crises like crop failure and low prices of goods produced impacts the lives of farmers adversely," said Ritvik Nagpal, director of project Aahar.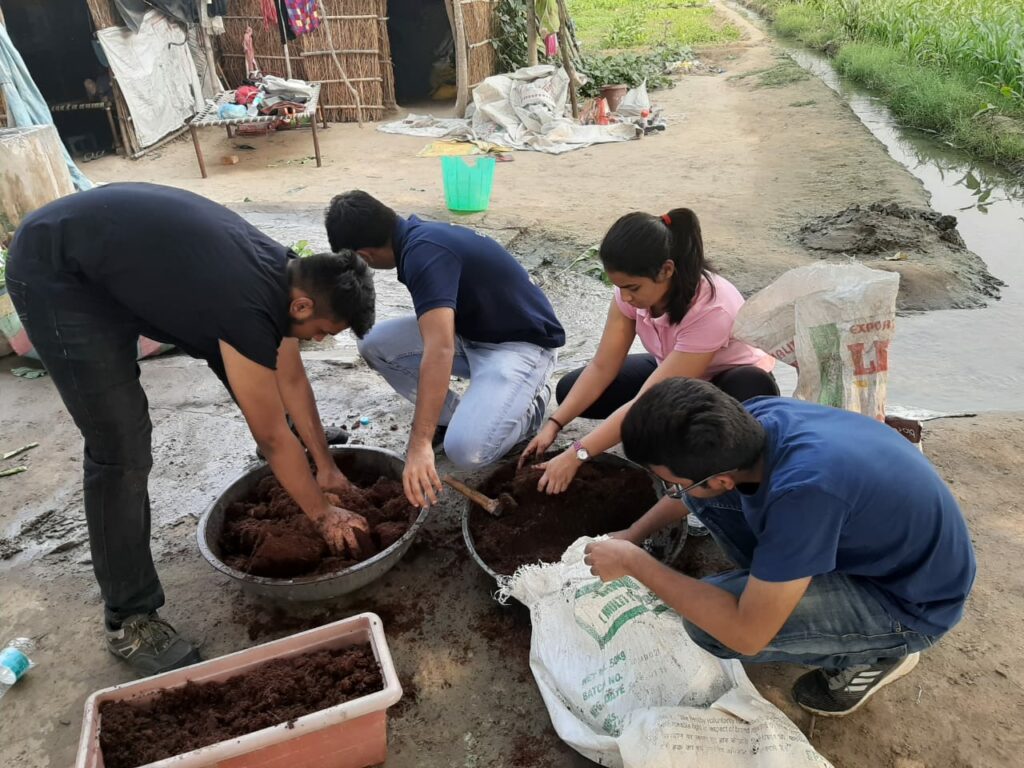 Implementation of CVP (coco-peat, vermiculite and perlite) to farms:
The major problem faced by farmers is the lack of a productive crop cycle. Despite high investment in Irrigation, fertilizers, and pesticides, the crop value remains poor.
"We surmised that enhancing productivity would cause fruitful results. So, to boost crop production we used the nutrient-rich growing medium called CVP that is an element of hydrophonic farming. Also, we were grateful to be mentored and directed by reputed scientists from The Indian Council of Agricultural Research (ICAR) and Krishi Vigyan Kendra (KVK), " says Ritvik.
Advantages of Cocopeat:
The coco-peat (coconut pith fibre) mixed with vermiculite (a hydrous phyllosilicate mineral which expands when heated), and perlite (an amorphous volcanic glass that has a considerably high water content), known as CVP mixture, eliminates the requirement of fertilizers and pesticides. Moreover, coco peat also impacts the water retention capacity of the soil. 50 per cent of irrigation water is saved when CVP is taken into consideration. This not just reduces the germination period of the crop by over 50 per cent but it heads to vital growth in the final output by a minimum of 20 per cent.
'So at the ratio of 3:1, we started promoting the use of CVP on the soil. And it drastically increased yield up to 1 to 1.5 times," says Ritvik.
He added, "The farmers weren't adaptive to the new method of farming, so for the initial stage of the CVP trials the team members purchased the dried coco-peat. Over a while, this technique has benefited the farmers by increasing productivity. For e.g. , Bharat Kumar a farmer with the help of this technique harvested 60 kg of fenugreek this year while he harvested only 40 kg with the use of the earlier method."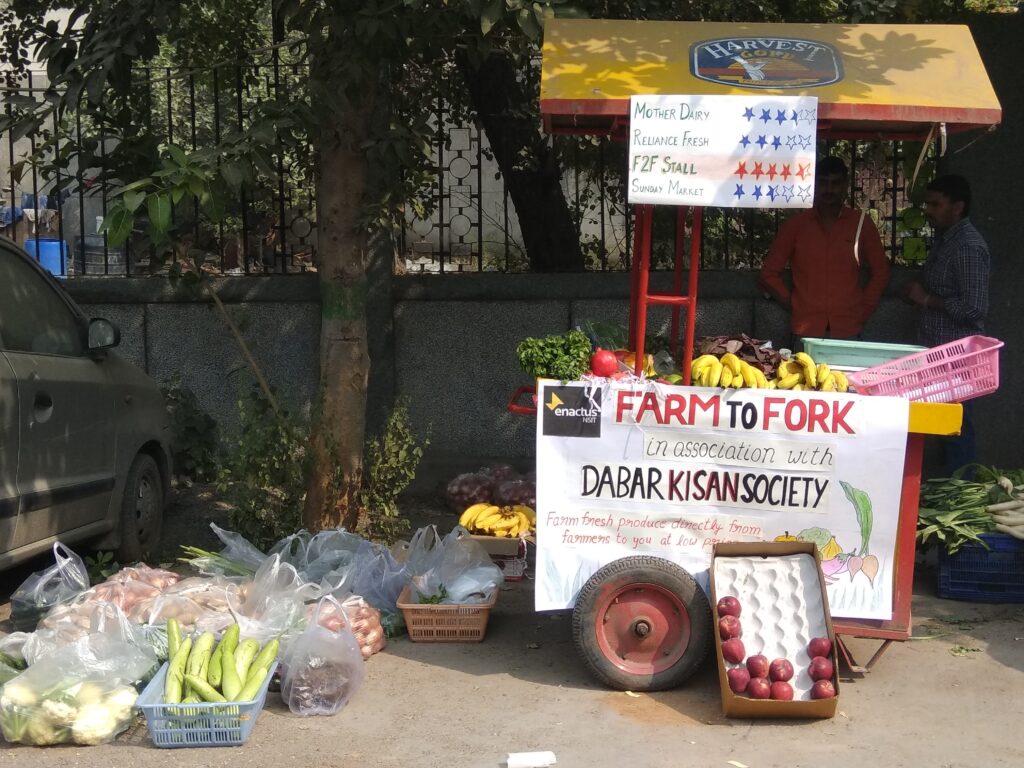 Farm to Fork model:
Students of NSUT commenced a new method for farmers to sell their goods directly to consumers eliminating the need of middleman.
"In our "Farm to Fork" Model, we arrange stalls in societies with the help of the respective RWAs and help our farmers to sell their produced goods directly to the natives. Farmers started earning better dividends as there are no exploitative middlemen and the residents got the benefit of consuming fresh produce, straight from the farm. Also, we are planning to form groups of several farmers 'Kisan Sang' where the producing and selling of the produce will continue more swiftly," Ritvik explained.
Besides helping farmers, Project Aahar also retails nutrient film technique (NFT) hydroponic gardening kits to raise funds for farming supplies. To bootstrap our investment, they sell hydroponics (NFT) kits to the gardening lovers.
In NFT, dissolved nutrients are re-circulated through a shallow stream of water, in a tube. From which the roots absorb nutrients. The unemployed women of farmers families compile these kits. The revenues from the kits are invested to purchase and execute coco peat farming on farmers' lands.
The EarthView spoke to R. Selvakumar, the scientist from Indian Agriculture Research Institute (IARI), Delhi, who has been directing Aahar's students. "In my hometown, Singampunari, Sivaganga district, coir-pith was disposed near roadsides because it was considered waste. But this became a rejuvenated source of modern farming, a new agricultural innovation, "says the scientist.
Further, he adds, "In India, the farmers aren't adaptive to new technologies and it's setup also costs an enormous amount. So, CVP is a great alternative because of its cost-effective standard. CVP is a component of hydroponic farming where plants grow naturally. In hydroponic farming plants draw nutrients out of reservoirs crammed with nutrient-rich and water-based solutions, under optimal positioning of lights and controlled temperature conditions, making it completely eco-friendly.'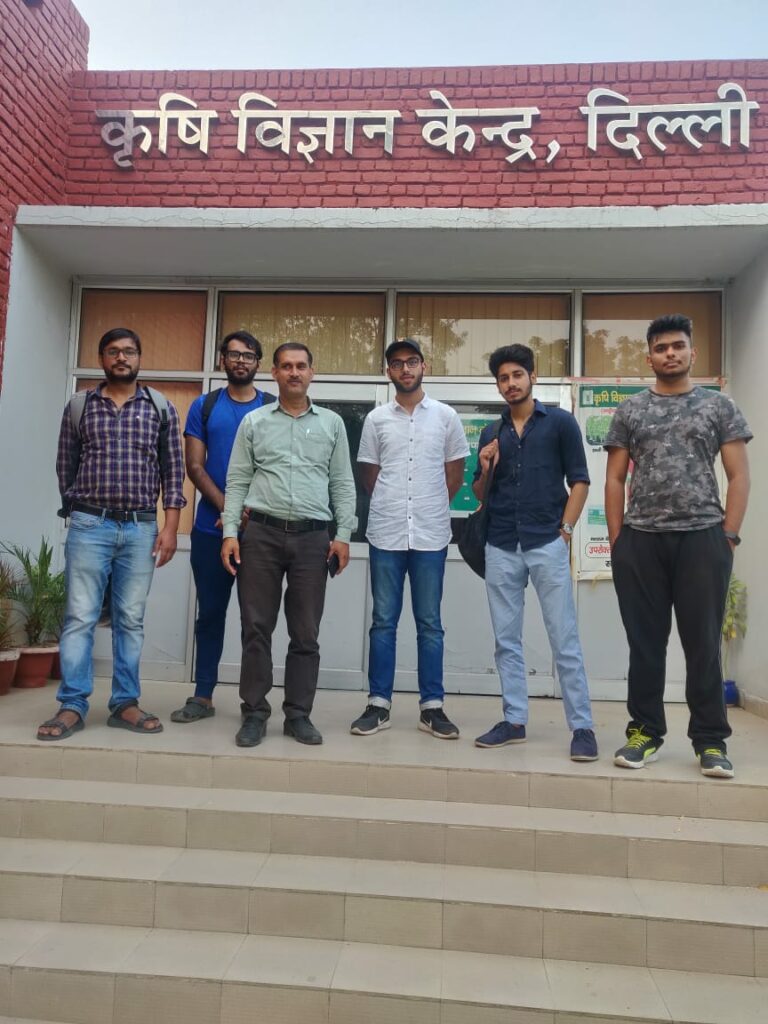 After the preliminary achievement, the NSUT-Enactus team is aiming to expand the scope of the programme to more farmers across Delhi and other regions tying up with BITS Pilani, once the pandemic gets over.
Written By: Manoj Khetan