Carrying a banner in hand with the slogan 'Saasein ho rahi hai kam, aao ped lagaye hum" (oxygen is reducing, let us all plant trees), a plant in a cylindrical jar on the back, and a mask on the face, we are talking about Rajesh Kumar Suman, or better called as 'tree man', or 'oxygen man' by the people. Rajesh is an environmental activist and has been a big advocate for environmental conservation. Ever since 2019, he has conducted around 2000 'Harit Yatra' or 'green yatra' in Bihar, Odisha, Jharkhand, UP, and Delhi, to explain to people the need to save oxygen, raise environmental awareness among them, and encourage them to cut less and plant more trees around.
In a conversation with The EarthView team, he spoke about what inspired him to go on this green mission, and what keeps him going further on it.
Talking about what drifted his interest towards environment and plantation, he told us how he has been into trees and plantation activities since a very young age. "I belong to a farmer's family, and we had this belief that if the eldest child plants the first tree, it will grow better. So from a very young age, I remember I must be in 6th standard. I started planting trees. Even on every occasion, we used to gift plants to people," he told.
The cylinder on his back is a transparent 20-litre water bottle and has a plant inside it. The plant generates oxygen for him to inhale, which is carried to his mouth through a pipe attached to the bottle at one end and to an oxygen mask placed on his mouth, at another.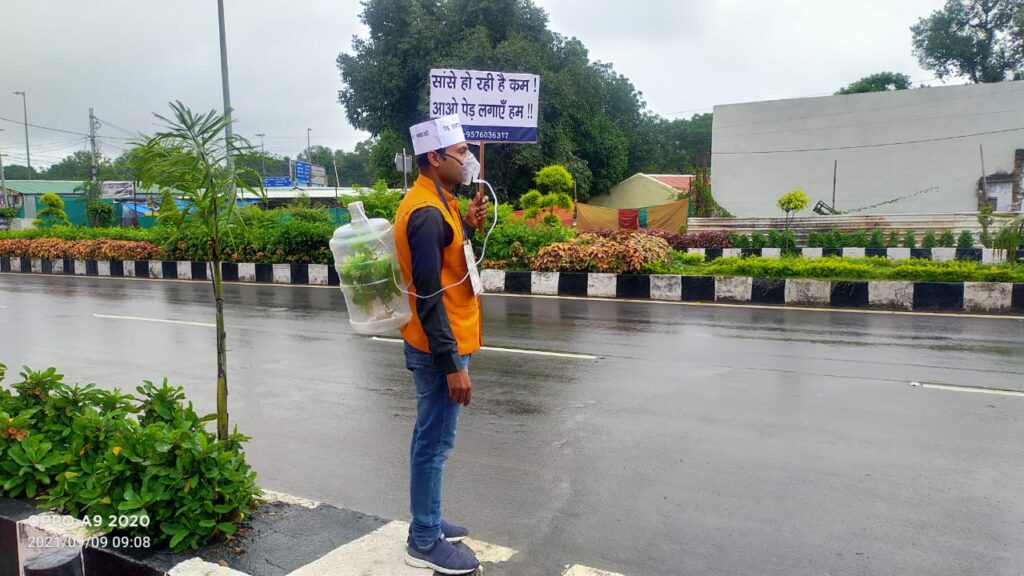 Rajesh is a post-graduate in history from Samastipur district College of Bihar, and before dedicating his full time to this green cause, has worked in the government service sector. But later, listening to his call to serve the environment, he left his job in Railways. According to him, his prior job has helped him establish his message more precisely, and brought it in front of more people, with a stronger base. "We explain to people that if we don't take valid steps today, a day will come when each one of us will be seen with an oxygen cylinder on his back", he told.
He started distributing saplings on birthdays, weddings, and other social functions and tried to connect people's emotions with plants. He also started attending wedding ceremonies carrying a plant in his hand, but received a huge backlash from people in the name of marketing his business.
Speaking more about his journey, he told The EarthView how people used to oust him frequently, which hurt his emotions and drove him to work for the environment. Later on, they even stopped inviting him to their functions. "I take the great mountain man of India', Dashrath Manjhi, as my ultimate inspiration. Just like they call me, people used to call him mad too for his efforts. But eventually, the world realized how big of a cause he was working for. His stories keep me going through in times of backlash and self-doubt", he further added.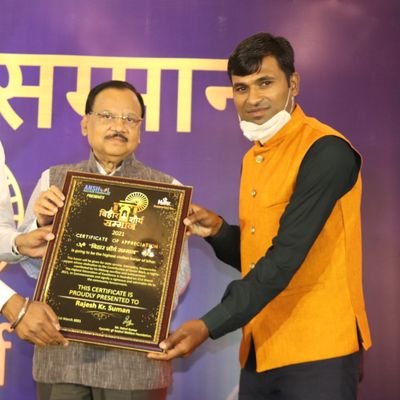 Later, he got the idea of gifting five mango plants alongside 5 fruit varieties to bridegrooms, as it is done at weddings in Hindu tradition. Following up on his initiative and bringing about a twist in traditional practices, the bride's family members in his village have now started gifting mango plants to all the wedding attendees. He also replaced bouquets with plants while visiting government officials, a way of pitching his environment-friendly ideas more innovatively.
Rajesh has also started the 'green pathshala' initiative, in Samastipur district, Bihar, which is managed by Binod Smriti Study Club (BSS club), which works towards environment and education. It was founded alone by Rajesh in 2008 but is now run by a team of five people. As a part of this 'green pathshala, every student is supposed to plant at least 18 trees in return for classes. The idea is that 18 trees together produce oxygen enough for the survival of a human, so it kind of equals it off. On national festivals like Independence and Republic Day, instead of sweets, students get mango plants as gifts. They call it 'Tiranga walaa Puadha' (Tricolour plant). To date, 5000 students have planted trees under this initiative.
'Green pathshala' provides education to underprivileged children, girls who want to study further, and even physically disabled children, free of cost. Students are prepared for examinations to get government jobs, and about 60% of them crack the exams every year. They are trained till they can make it. Students who make it to government jobs promote the initiative in their professional spaces.
Rajesh has also started a social media campaign called 'selfie with tree', under which people have to plant a tree, take a picture with it, and upload it with the hashtag #selfiewithtree. He started the campaign in 2016 from his village Rosera, Samastipur, and was awarded for his role in environmental protection and promotion by the Ministry of Environment and Climate, Bihar government. "Till date, we have planted one lakh ten thousand trees in cities like Odisha, Jharkhand, Bihar, U.P, etc", he told The EarthView.
"They name me oxygen man when they see me with an oxygen mask, tree man when see me taking selfies with trees," he told us while talking about titles he received along his journey.
Answering what he sees further for himself and this initiative, he spoke about his plans to visit cities all across the country and bring more innovative campaigns in place which can serve the cause better.
Tazeen Ansari