India, with its religious diversity and significance, generates a great deal of floral waste every day. That flowers are not taken as something harmful to the environment is also one reason it is hardly taken into consideration by the devotees when they offer flowers to the gods and goddesses.
But the reality differs from what people have in their minds. Around 2/8 million tonnes of floral waste are generated every day and are dumped into the river. This poses a significant problem for the environment, as toxic chemicals such as pesticides and insecticides are used to harvest flowers, and when dumped into a water body, end up polluting the water. This promotes the growth of algae and threatens aquatic life.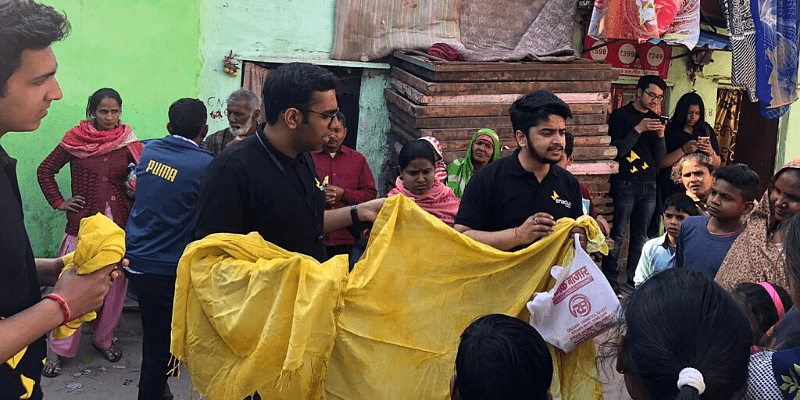 Shocking, right? How could such fragile things cause so much harm to the environment?
This is exactly what the student entrepreneurs of Aryabhatta College thought of when they realised the importance of sustainably disposing of floral waste. These students started a project called "Palaash" in 2019 and took up collecting flowers from temples and turning them into something useful.
In a conversation with the president of Enactus Aryabhatta, the entrepreneur society of Aryabhatta College, Sahej Kapoor talked about the project and its aim with TheEarthView.
Speaking about Palaash and what it is all about, Sahej explained people are unaware of the fact that one-third of the solid waste makes up floral waste in India. "Under project Palaash, we collect fresh flowers from temples, as they contain hazardous substances such as pesticides, which otherwise would have been discarded into the rivers. So, we collect flowers from the temples and convert them into colouring dye for clothes".
Speaking about the apparel produced by team Palaash, he said that there are T-shirts, Kurtas, and Dupattas and they are also thinking of exploring handloom products as well. Not stopping at this, the team is also ready to provide dying services to other companies as well if given the opportunity. "If there are companies or NGOs which make products out of clothes such as shoes and handbags, we can provide them clothes which are dyed from flower-based colours such as yellow and pink to make products out of it".
Flowers are pretty fragile and don't take long to lose their freshness. Hence, measures must be taken by the students to ensure the quality of the flowers to make colours out of them. Talking about making colours and ensuring the freshness of the flowers, Sahej said that, "Natural dye differs from synthetic dye. Natural dyes will not give you bright colours, for that synthetic power needs to be used". He further explained that there is a certain procedure that needs to be followed for distinct elements involved. "Harad Seeds are crushed and put into boiling water for 15 minutes and then we strain them. This makes the water muddy brown. After this, pigment is extracted from the crushed seeds and we put the cloth that needs to be coloured into the extracted pigment, giving it a soft or light-yellow colour. For Marigold, the petals of the flowers are plucked and are kept in boiling water for around 20 minutes. When the water gets orange, we strain it and put the fabric in it. This gives it a bright yellow colour". For the team, making products with good quality is important and to make sure that the colours last for a long duration "the fabric is mordanted first, it's a process to prepare fabrics to accept or absorb colour, which improves the with-holding capacity of the fabric and helps in retaining the colours".
The colours that are used commercially contain a lot of chemicals to enhance the colour. Sahej elaborated that "No chemical is added while making the dye. We use Haldi (Turmeric) to create diverse shades of colour as fresh flowers give different shades. For example, Marigold gives mustard yellow and by adding Haldi, we can make neon shade out of it." Sahej further elaborated that Haldi, being eco-friendly, does not leave any harmful substance as its aftermath. "The residue water is entirely free of any chemicals and thus, can water the plant. It contains minerals from the flowers and Haldi, and ends up being very good for the environment".
Since a huge number of flowers are used to make dyes, the solid waste remains even though they use the water for plants. "The project is a zero-waste model. The flowers that remain at the end of the process turn translucent and mush-like after extracting their pigment and can be used as manure. We also use tea leaves, Madder Roots, Onion Skin and Tesu Flowers to extract their pigment which turns into manure. This improves soil texture and provides it with minerals".
Palaash not only makes dye but also helps in the upliftment of the human trafficking victims by giving them employment and making them self-sufficient. "To make these products, we have collaborated with an NGO, called Stop Global Movement, to connect us with human trafficking victims whom we employ as beneficiaries of the project. 12 women are working with us. We have also collaborated with a lot of handloom communities in Madhya Pradesh and Gujarat who have employed over 400 women so far".
While talking about the average revenue that is collected by the women entrepreneurs, Sahej stated that "the revenue depends on the number of orders that they get. The team is planning to visit the production centre after the lockdown is over and it is safe to travel to train them in make dye naturally and sell the handloom products directly". The team aims to make women self-sustainable by establishing a fully functioning business for them and providing them with training regarding managing the dedicated website, finances and supply chains. After the women are completely trained, the team will step back and hand over the project to them.
To provide the women entrepreneurs with bigger selling opportunities, the team Palaash has been making various products such as their apparel, T-shirts, Kurtas and Dupattas. They have also organised seasonal campaigns as well, for example, they sold organic gulal on Holi. The women could sell 100s packets, which gave a boost to their revenue.
Since the flowers that are to be collected needs to be fresh for the dye to be made of them, tying up with different temples or religious places must have been part of the process. "We have collaborated with a few temples in South Delhi, in Greater Kailash and some are in Gurugram as well. We collect the flowers from there on the same day when we have to visit the production centre so that we provide the women entrepreneurs fresh flowers.". This is done to make sure that the bright flowers are fresh and don't lose their pigment.
The project encompasses various tasks and responsibilities to ensure that everything works properly and timely, such as collaboration with communities, NGOs, Temples and its employees/women entrepreneurs. To operate this project, the involvement of many people must be required. "Enactus Aryabhatta is a college society, so we are a team of 60 college students. The recruitment process takes place every year, so we receive 200-300 applications for recruitment annually. There is a complete process for recruitment, including an interview".
Talking about product manufacturing under Palaash, Sahej mentioned they plan to explore and expand the range of products and not restrict themselves. "We have made scented candles and incense sticks out of floral waste as well. For this, are we collaborating with different NGOs, such as the Itasha foundation? Which is a Delhi based NGO that will help us in making scented candles, to begin with."
Since the project has been at work for some time, the team is aiming to venture into different products to utilise floral waste in more varied forms, such as rose oil.
The team of Enactus Aryabhatta tried to tackle unique problems sustainably to ensure that they minimise their production cost by collecting the required raw materials from temples rather than buying them while reusing floral waste and providing a livelihood to the people of an underprivileged section of the society.
Akansha Jain