A Living Example Of How An Individual Can Make A Difference To Our Environment
Managing waste has been a big asked-out question for decades. In India, almost 0.1 tonnes of waste is being generated in a single day. Whereas this crosses 62 million tonnes in a year of which about 12 million tonnes is treated and the rest is just being dumped in the landfills. The simple way is to dump it into the dustbins rather than throwing it on the roads and possibly recycle or donate it to the needy. Such activity of throwing wastes on the roadside gives us many ironic conditions for living in waste-free land. Talking about the activities, ever wondered if someone can manage simultaneously health and waste. Some people see such an effort where jogging and picking up waste becomes a healthy exercise in their day-to-day life.
G. Nagaraj, who is popularly known as "The Indian Plogman" from Bangalore hails from a small town -Guntakal from Andhra Pradesh. He is passionate in Sustainability & he spreads the message by cleaning the streets of India while running and picking up the dry waste- which ensures a healthy lifestyle for the volunteers and even for mother earth…It's called "Plogging" , which is a fitness trend across the globe popularly known which actually originated in Sweden in 2016. Plogging in Indian perspective is the right mix of Swaccha Bharath & Swastha Bharath.
Plog raj is a working employee with two kids. He is the founder of 'The Indian Ploggers Army' which was founded in 2018 with a pure passion on environment. He with his group plog across unique events in different states and picks up the waste & thus sensitize people to not litter.
8 years back Raj while returning from a cycling event saw few people painting & beautifying the walls along the Windsor manor bridge. He further probed the volunteers & was glad to hear from one of the volunteers that people litter less on cleaner places & littler more on uglier places… This triggered the thought process of cleaning up the black spots. He started joining the likeminded groups initially along with his daughter aged 5 years. Being into running he got to know about "Plogging" in late 2016 & that's when he scaled up the #Plogging activity in Bangalore. He also spreads awareness on Sustainable Hygiene to his fellow women over the plogs. The plog starts with a pledge rather urge to beat plastic pollution & work on sustainability.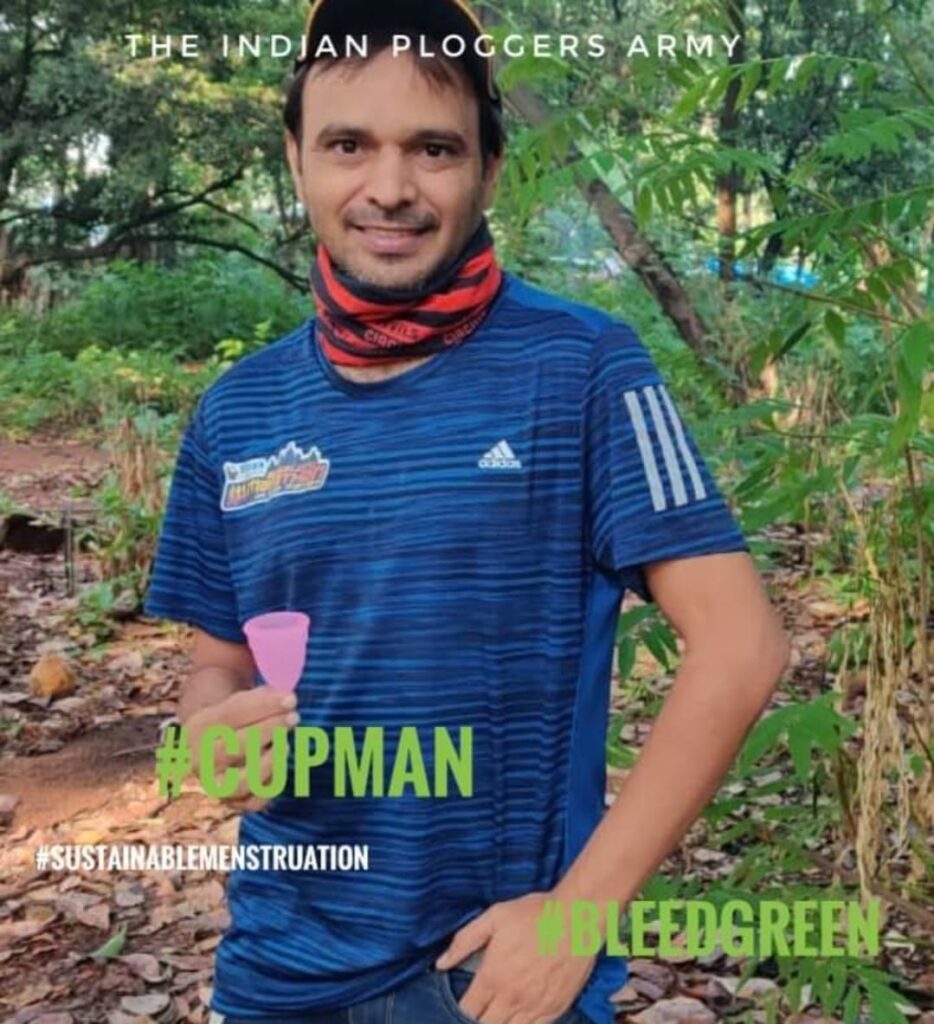 During covid times since last year, the Ploggers army also started other initiatives like picking up clothes, old mobile phones, laptops & durables for the needy.
Even in these tough covid times, Raj and his army did not stop and continued their strive against irresponsible littering & more importantly their efforts on encouraging #Sustainability was very much intact.
During his barefoot runs, he picks up dry waste littered by runners & fellow walkers, public. Many people used to enquire about the activity,While Some laughed, some just asked, but others picked up the waste and handed over to him. This was the initial platform where the army came into existence and they plogged across many public places,
Few Corporates & NGOs came to know about #Plogging after the team's initiatives became a rage in fitness community & in print/television media. Over the years the army has plogged in 40 + different locations within Bangalore & over 25 cities across the nation to create awareness and thus eradicate litter'acy by a bit … i.e. act of littering
Today close to 350+ people are engaged in the army though not all getting into plogs as such but making a little impact in their own way. The Ploggers segregate the waste at source, they avoid single use disposables, they compost the kitchen waste, they encourage Rent Cutlery, BYOC & at the same time pick up the trash during their jogs/walks In mid-2019 after getting to know a bit on "Menstrual Hygiene Day" over a plog, he started creating awareness among women on the not so openly spoken topic!
Later in 2020, Plog raj phrased the word 'cup man' just like superman, ironman, he-man. The 'Cup man was in fact an extension of thought/inspired from "Padman Mr Arunachalam, who was indeed a revolutionary .The Plog man in his beautiful words, says, "We should always think global but act locally". There was no point in conducting events in these times. Especially when social distancing is a norm nowadays.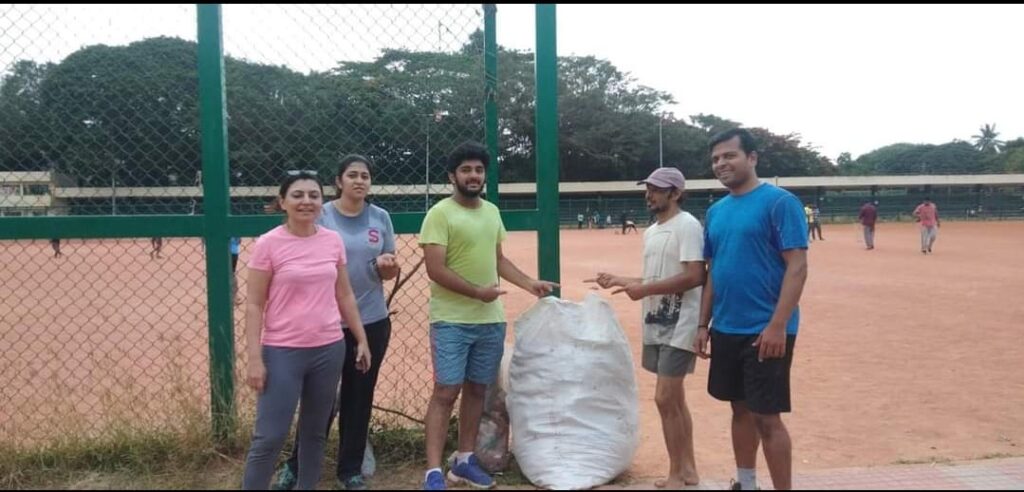 Raj cleverly explains to us that there should not be any group activities during these times. Keeping this in mind, raj urged his fellow plogmates & citizens to plog from home. I.e. stopping the usage of disposables & encouraging the concept of Reuse, Repair, Refurbish.
This covid phase has also led the children who cannot afford the electric smart gadgets, into a great worrisome discussion. Today almost every class is attended from home via smartphones. Children from government schools below the poverty line cannot even think of buying these expensive means of communication. So he with his army defeated this obstacle to a little extent by requesting people to donate their additional phones lying unused. Our Plogman says, "We tell people to collect all the stuff like books, toys, phones, laptops which are old but in good condition and who are actually willing to give it to the poor and keep it in one apartment. We then arrange vehicles and get it picked." Clothes being the necessity, So far, the Ploggers army has picked over 5,000+ reusable pieces of cloth distributed among the slums.
India generates almost 40 million tonnes of e-waste per annum. Electronic gadgets being a hazardous waste for the environment, instead of throwing away the old gadgets they can be one's useful thing if repaired, says our Plogman. Today almost 55 children have benefited in the last 2 years & it has become ongoing activity for the team.
Along with the clothes and smart gadgets, The Indian Ploggers army also distributed footwear to the slums with #inclusivevolunteering through "The Sole Warriors". The Sole Warriors team founded by 13 years old girl Sia Godika has touched 5000+ children & elderly within a year along with the army of Ploggers & other volunteers. Over the last 2 years, The Indian Ploggers Army also distributed 40+ cycles that were in good condition with the help of likeminded people. Raj gaily says, "We see all cheerful faces and the people sharing pictures of clothes, shoes, and bicycles makes us happy, humbled & more committed".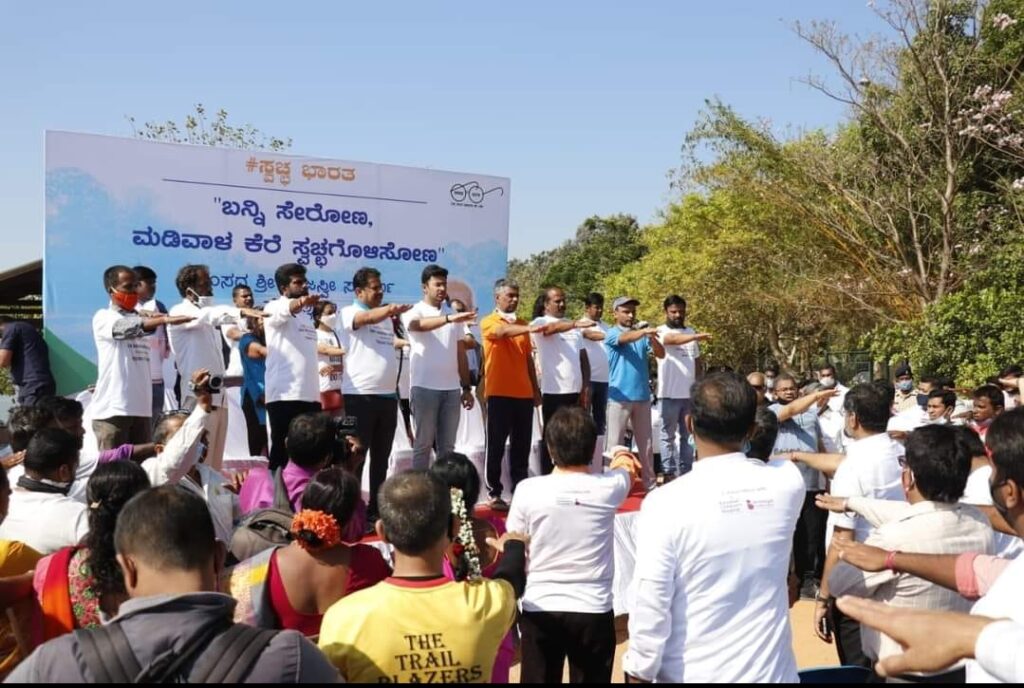 With ample support from groups working on these viz MITU Foundation, Stonesoup,in , The Coveted the team was able to distributed 1500+ cloth pads , hundreds of cups . Apart from donating the recyclable products the team reaches out to the women & seek feedback / clarify the myths if any, to ensure that the women stick to such sustainable options.
Finally, Raj tells The EarthView that he wants to fail as a plogger in the long term. He explains why, he says, "The moment I find more and more trash, I find something is wrong with the system which includes people, corporates & the government. The day I don't find any trash, my goal is achieved ie making every individual waste- responsible.
After two decades I would love to run and not plog anywhere & thus create HCGN – Healthy, Clean & green neighborhood ( Nation in broader perspective )That would be my treat", he adds as he signs off.
Written By – Stephan Christian