Respect nature, taking this as a cue Naveen Mallesh (32) a
mountaineer and environmentalist has completed around 200 treks, guided 3000
people and collected 100 kg of trash from the hills of Western Ghats and Himalayas.
Responsible Trek- Respect
Nature and Conserve the hills
To promote responsible trekking, Naveen has
founded a startup TrekNomads- a community for
trekkers, travellers and nature enthusiasts in the year 2019. He said, " One of
the foundations of trekking is to respect nature and therefore it is important
to inform people going on a trek that they should not be polluting the environment
or hills. Usually, people litter whenever they go for the trek, which results
in an excessive amount of trash collecting in our hills. With all our treks, at
TrekNomads,
we make sure to educate our team about it and
while coming back we bring all the trash with us, which we find on our way.
Till now, with more than 200 treks, a total of 100 kg of trash have been
brought by us from the Western Ghats and Himalayas."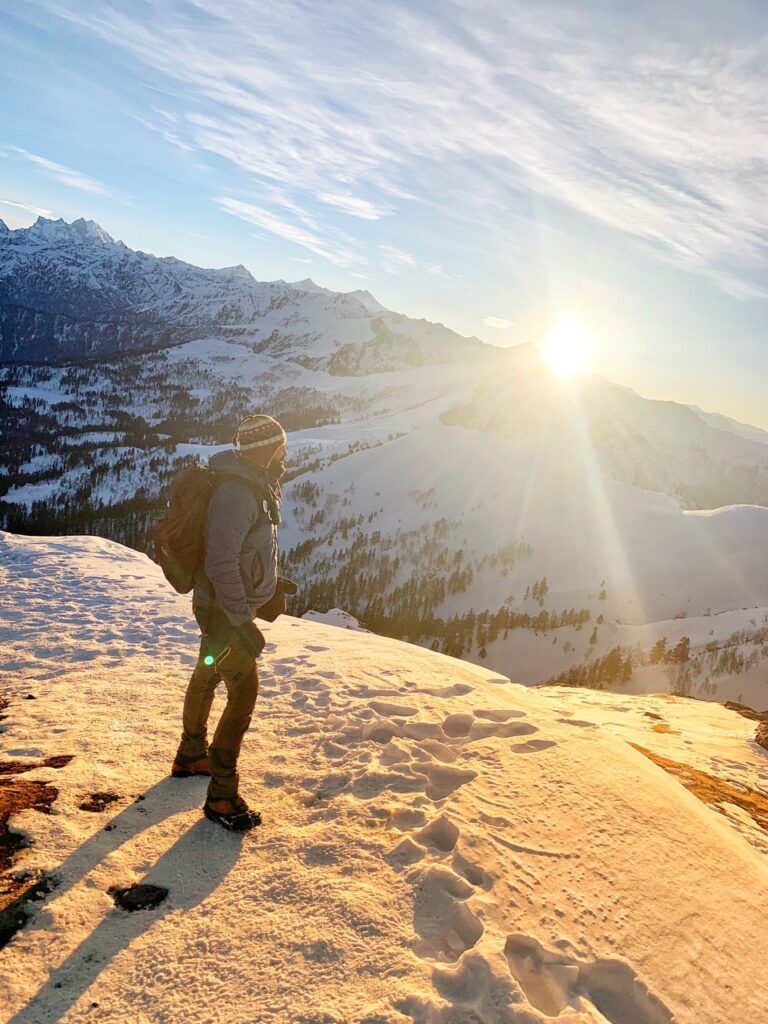 "As responsible
trekkers, we invariably carry bio-degradable products with us whenever we are
going for any trek so that we do not add any toxins there. The increasing
pollution in the hills remains a grave issue for concern and with responsible
trekking, we have to do our bit, therefore with each of our trek, we try to
create this awareness. People have to understand that while going on a trek,
you are entering into the tranquil world of nature's beauty, so respect it. It
is the responsibility of each of us to conserve the bio-diversity and make sure
our mountains are secured whenever we summit," added Naveen.
Improving the socio-economic
conditions of locals
Apart from enhancing awareness about the responsible
trekking by conserving the environment, Naveen also
focuses on improving the socio-economic condition of the natives living in
these hills areas. He said, "Intending to improve the socio-economic conditions
of the locals, I ensure that with each of my trek I involve the locals of those
areas for their assistance. This gives them some amount of money, which can be
used for their livelihood. I also make sure that as a guide for my trekking
team, I communicate to my team about the contribution of these locals in
completing the trek, which gives them acknowledgement and additional income."
Conserving Nature- Hand in
hand responsibility
Naveen also highlighted the importance of
conserving the environment is the responsibility of every citizen and not just
the administration. He said, "It is a hand in hand movement with citizens and government coming together to promote
the conservation of the environment. We can see that there is no control over
littering in hills and forest, however, it is teamwork and can be done only if
everyone comes together. Each of us should have a realization about the
importance of conserving the environment and be careful whenever you go into
the forest and hills.
Highlighting the encroachment and urbanization in the
forest areas as one of the key reasons for the increase of pollution in the
environment. He said, "There should be a restrictive rule from the administration,
and roads in the forest areas should not be allowed to get constructed. The
more urbanization ultimately affects the bio-diversity of these areas. When we
are hearing about the fire in the forest area such as the bush fire in
Australia, the administration needs to make strict rules for trekking in the
forest. It is critical that trekking in the forest should not be allowed after
February till the time monsoon arrives as the dried leaves in the forest can
cause a fire with human interferences. Therefore, the strict rule should be
established regarding trekking from the administration with proper control so
that these incidents can be avoided."
With a mission to support and hand over the planet to
next-generation, Naveen Mallesh in the next cover story reveals his startup
plans to contribute in conserving bio-diversity of Western Ghats. Stay tuned………