With a career of more than two decades in sustainable housing, P K Sreenivasan, a civil engineer from Kerala believes that with the help of sustainable architecture, homes can be made without harming the environment. Under his firm, Vasthukam Architects started in 1994, he has built various sustainable homes and has a speciality in mud plastering. Sreenivasan uses this variant coloured mud to plaster the walls which are available in colours so no coat of toxic paint is required. In a conversation with The EarthView, he shared the importance of sustainable housing and how it helps in conservation of environment.
Sreenivasan who had built Adishakti theatre in Puducherry before starting his firm has worked under well-known Laurie Baker who is also a pioneer in sustainable architecture. After learning under Baker for many years, he then began his journey of building mud homes with his firm. He explains that homes were built earlier even when cement did not exist, so, following the same old methods with the aid of little innovations – homes can be built the same way as before without harming the environment.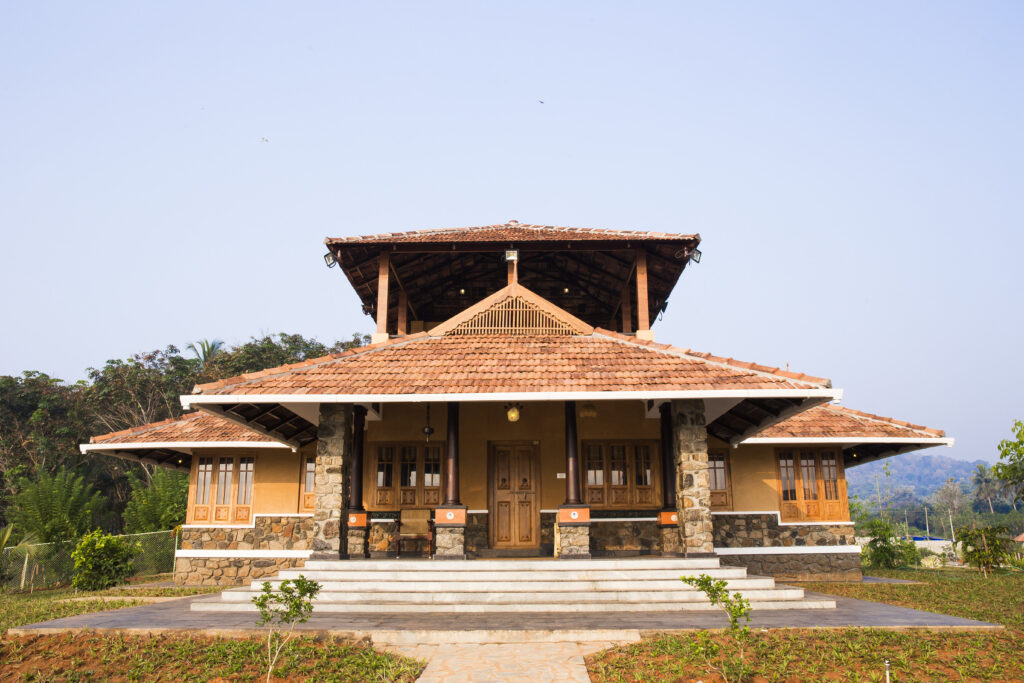 He started Vasthukam Architects in the year 1994. Their speciality is mud plastering that is done in the mud homes. Since over 20 years, Sreenivasan has built many beautiful homes. He focuses on using minimal resources, so many times old waste wood and materials from a demolishing home is used in these sustainable housing. "When you build a home, you need to look around for local resources and local expertise. Even while building the house, it is important to employ local people for labour work. People should use minimum resources and look for sustainable solutions while minimizing the consume for constructions", says Sreenivasan.
He further said, "If we look around, we'll find old buildings still standing sturdy. Natural resources like mud, bamboo, coconut wood, etc. not only help in saving nature but also keeps the homes cool from inside. Also, it becomes less costly. It also helps in the employment generation in local areas if we employ labourers from there.
Talking about the strength of the house he exclaimed, "Mud houses when provided proper roofing, will stand forever!"
"People are not aware that mud homes can still be built. They are also not aware that there are architects who built such homes Although when they see such mud homes, they surely do go for it; as mud homes are not new to people and everyone knows about its benefits," added Sreenivasan.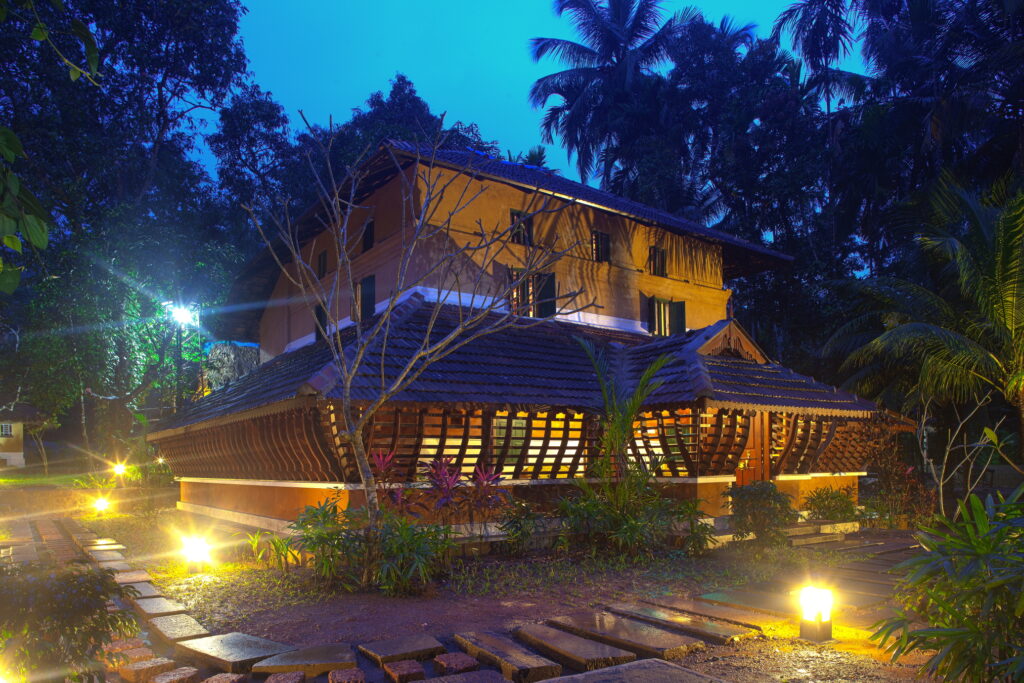 He also shared the various methods for building mud homes. The core development of the walls in a mud home can be done by using following methods:
• Adobe- where mud and water are mixed and moulded and these bricks are sun-dried.
• Cob- in which dry straws, mud and gravels are used to form the wall. Cob can also be used as plaster.
• Rammed earth method- where mud and slaked lime are mixed and stacked tightly.
Mud Plastering is another speciality of Vasthukam architects. There are two layers of plastering- the first layer is rough as it contains husk and much other binding material like sand, etc. and the second layer is smooth one which is done using the desired coloured natural mud. As to create wells or any other purpose, the soil is dug and as there are many layers of soil beneath- different colours of mud is obtained. This mud is usually thrown on land and goes unused; Sreenivasan uses this variant coloured mud to plaster the walls. The colours are very earthly and warm like- deep red, soft yellow, yellow ochre, chrome yellow, muted brownish-gold and also pink (obtained from hilly areas). Hence, no coat of toxic paint is required. Various textures, motifs and impressions can also be done.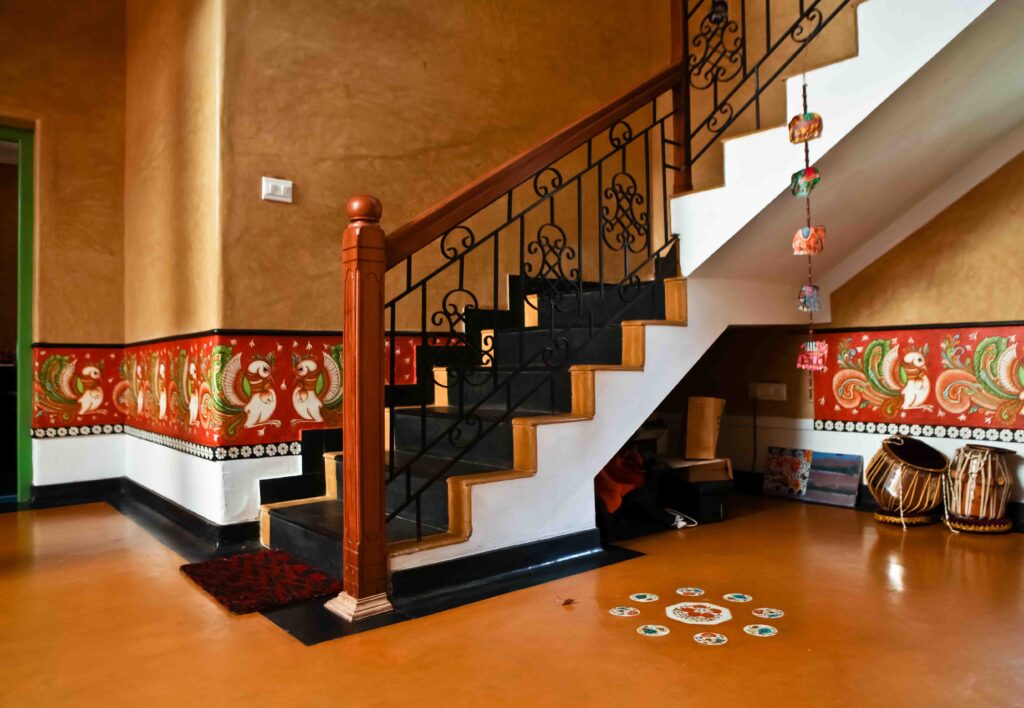 Talking about the challenges in building these Mud houses, Sreenivasan said, "Mud houses are quite challenging to build as 'water' is its biggest enemy." Therefore, construction of such houses are preferred after monsoon. He also shares that the roofing is an important part of the home and it is built using coconut wood, bamboo, etc. He said, "Often the trees which are used here are past their fruit-bearing age. The flooring also can be done using wood. Oxide flooring is also one of the methods. Oxide flooring is an age-old practice of using oxide colours (primary colours) in various combinations for flooring. This may be with lime, mud or cement."
According to Sreenivasan, "oxide flooring is wonderful if river sand is used but for the last ten years, river sand is not available to us. So we use M sand these days. Earlier it had few problems but as oxides are getting better in quality, the resulting colour of the flooring looks wonderful along with the earthly mud colour."
The windows in these mud homes are not made of glasses but wooden panels. This aids in keeping the home cool wherein glass traps heat. The whole construction does not need any steel. Also, carbon emission is reduced. Once you are in the mud home, all you breathe is toxic-free air! The home is eco-friendly, sustainable, strong and sturdy.
Written By: Kosha Naik